An Article Out Loud from the Domestic Preparedness Journal, March 15, 2023.
In March 2023, FEMA published the Response and Recovery Federal Interagency Operational Plan. Learn about this big step forward for the emergency management community – the development and content of this new plan as well as the next steps for key stakeholders.
Narrated by MacGregor Stephenson.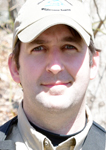 Robert J. (Bob) Roller serves as FEMA's National Planning Branch Chief, where he supervises the development and implementation of major federal government-wide planning efforts that address complex and catastrophic disasters. In addition to his steady state responsibilities, he is a qualified Planning Support Section Chief within the National Response Coordination Center and formerly served as the Acting Strategy and Policy Division Director. He joined FEMA in 2017 after serving at the U.S. Department of Homeland Security (DHS) Headquarters where he led the development of multiple DHS-wide planning efforts and served as the Protection Planning Division Chief within the Office of Policy. He also has years of experience as a firefighter and emergency medical services provider in both wilderness and urban environments. He is a frequent contributor to the Domestic Preparedness Journal and recently published a memoir regarding his early experiences as a wildland firefighter. The opinions printed here are his own and not endorsed by his employer.
No tags for this post.