An Article Out Loud Flashback from the Domestic Preparedness Journal, November 10, 2010.
This 2010 article describes how the University of Texas Medical Branch (UTMB) used the lessons learned from Hurricanes Rita in 2005 and Ike in 2008 to develop an effective response and rebuilding plan that not only has been used by UTMB itself to cope with future disasters but also provides a Gold Standard recovery blueprint for other organizations and institutions of all types.
Narrated by Randy Vivian. 
Cameron Slocum, UTMB's vice president of finance and administration, is responsible for all financial, operational, and strategic functions within the UTMB Academic Enterprise and Faculty Group Practice. In that role he serves as principal business officer of the Schools of Medicine, Nursing, Health Professions, and Graduate School of Biomedical Sciences. He also coordinates for all of the institution's business-related disaster-recovery efforts with FEMA and a number of other agencies. Slocum holds a bachelor's degree in finance from Texas A&M University and an MBA from the University of Houston-Clear Lake.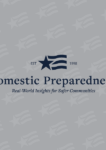 James Lee Witt is CEO of Witt Associates, a public-safety and crisis-management consulting firm based in Washington, D.C., that provides disaster-recovery and mitigation-management services to numerous state and local governments, educational institutions, private-sector businesses and corporations, and the international community. A former FEMA director, and the first to be elevated to cabinet status, he played a key oversight and decision-making role in the U.S. responses to more than 350 major disasters of all types, including the most costly flood in the nation's history, the most costly earthquake, and a dozen damaging hurricanes. Before his FEMA appointment he had been a highly successful businessman, and also was elected, seven times, to the post of County Judge for Yell County, Arkansas.