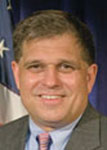 DomesticPreparedness met with Dennis R. Schrader, Deputy Administrator, National Preparedness, FEMA
Schrader, the FEMA (Federal Emergency Management Agency) deputy administrator for national preparedness – accompanied by Glenn Cannon, FEMA assistant director for disaster operations – discusses the soon-to-be-released final version of the National Response Framework (NRF).
DomPrep has divided the 44 minute interview into 4 segments.
Download full audio interview to your MP3 player.
Listen to Audio Segment One NRF Overview
How the National Response Framework reflects the "new" and "forward-leaning" FEMA and eliminates the need for formal declaration of an incident of national significance. The recognition by elected officials of the importance of executive leadership for preparedness.
Duration: 9 Minutes 16 Seconds
Listen to Audio Segment Two Coordination
The emergency manager as a "coordinator" for logistics and communications support; institutionalizing coordination with the private sector and faith-based organizations; the stand-up of ESF 13 (public safety and security) law-enforcement teams to assist state and local authorities; how the FEMA gap-analysis process is driving requirements and determining the allocation of resources.
Duration: 23 Minutes 26 Seconds
Listen to Audio Segment Three Incident Management
The rollout of incident management assistance teams (IMATs). The relationship between, and responsibilities of, local emergency operations centers (EOCs) and area commands; the role of the designated safety officer in the incident command structure.
Duration: 7 Minutes 26 Seconds
Listen to Audio Segment Four IT and Communications
Back-ups and redundancy in the information-technology infrastructure. The rollout of the mobile emergency response support (MERS) program.
Duration: 3 Minutes 40 Seconds
Dennis Schrader, deputy administrator of FEMA's National Preparedness Directorate, is responsible for the coordination and development of the capabilities and tools needed — at all levels of government — to protect the American people against "all hazards," including terrorist attacks and destructive acts of nature. He previously served as Maryland's first director of homeland security and, prior to that, served for 16 years at the University of Maryland Medical Center, where his work included development of medical preparedness plans for mass-casualty incidents. A retired naval officer, he holds a bachelor's degree from the University of Buffalo and a master's degree from the State University of New York at Buffalo.