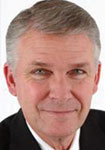 DomesticPreparedness met with James Lee Witt, CEO, James Lee Witt Associates
The former cabinet-level administrator of FEMA (the Federal Emergency Management Agency) during the Clinton presidency offers his views on managing the intergovernmental, all-hazards disaster management partnership, the continuing need for FEMA reorganization, and the requirement to establish a national catastrophic insurance fund for recovery.
DomPrep has divided the 34 minute interview into 4 segments.
Download full audio interview to your MP3 player.
Listen to Audio Segment One A Former FEMA Director's Overview
The need to view emergency management as a state/local/federal partnership. Thoughts on how preparedness programs can break the costly damage/repair cycle to disaster management. The significance of the shift of training and exercise programs from the Department of Homeland Security (DHS) to FEMA.
Duration: 11 Minutes 47 Seconds
Listen to Audio Segment Two Thoughts on Katrina Recovery Operations
The need to streamline the process for documentation and reimbursement in recovery services contracts. The need to include Red Cross chapters in planning, especially with regard to evacuation sheltering. The case for reimbursing non-governmental organizations (NGOs). California's volunteer pre-credentialing program with Cal State as a model for managing human resources in disaster response and recovery.
Duration: 7 Minutes 33 Seconds
Listen to Audio Segment Three FEMA Reorganization
Why FEMA should be a cabinet-level agency with its own budget authority. How transferring greater authority to the ten FEMA regional offices will help rebuild partnerships with the states.
Duration: 7 Minutes 47 Seconds
Listen to Audio Segment Four The National Response Plan
The need to preserve state/local leadership in disaster management, and why FEMA should be the lead federal agency of choice. Thoughts about the government's role in creating a market for catastrophic insurance.

For more information visit www.protectingamerica.org
Duration: 7 Minutes 11 Seconds
James Lee Witt, chairman and CEO of James Lee Witt Associates – a public-safety and crisis-management consulting firm based in Washington, D.C., and a component of GlobalOptions Group Inc. – is the former director, under President Bill Clinton, of the Federal Emergency Management Agency (FEMA). He has over 25 years of disaster-management experience and in the period from 1993 to 2000 was the principal federal official responsible for the consequence-management phases of 350 major disasters including the most costly flood disaster in the nation's history, the most costly earthquake, and a dozen damaging hurricanes.In February 1996 President Clinton elevated Witt to cabinet status – making him the first FEMA director to be so designated.