From infectious diseases to terrorist attacks, state and federal agencies must collaborate to provide the most effective responses for large-scale public health events. New types of threats continually emerge, terrorist tactics evolve, and environmental conditions change. Each of these factors contributes to the complexities that emergency preparedness professionals must consider when preparing for, mitigating, or responding to any threat.
At the federal level, the Strategic National Stockpile continues to be at the ready to rapidly deploy resources and medical countermeasures to affected communities. However, in order to better align these resources with complex incidents and local response efforts, the U.S. Department of Health and Human Services has shifted oversight and operational control from the Centers for Disease Control and Prevention to the Office of the Assistant Secretary for Preparedness and Response. This shift will improve emergency response efforts and supply chain logistics for medical countermeasures.
At the state level, some best practices have already been developed through public-private partnerships to address medical countermeasure distribution and disaster response to public health threats. In Maryland, one agency discovered that the annual Girl Scout cookie distribution process provides a low-cost, full-scale opportunity to exercise emergency response plans. The process also can be adapted for dispensing medical countermeasures through open and closed points of dispensing. In North Carolina, lessons learned from previous animal disease outbreaks and severe weather events have been used to improve animal disease response tools for future disasters.
Learning from the past and looking toward the future have been critical factors for successful response efforts. This is true for federal and state agencies as well as for individual emergency preparedness professionals. With the growing complexity of potential threats and disasters, these professionals also must evolve to ensure they maintain the traits and capabilities required for successful emergency management. From local emergency managers to the largest federal agencies, vertical collaboration ensures that resources are readily available, supply chains are effectively managed, and communities quickly recover from whatever potential threats arise.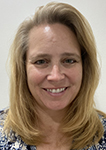 Catherine L. Feinman, M.A., joined Domestic Preparedness in January 2010. She has more than 30 years of publishing experience and currently serves as Editor of the Domestic Preparedness Journal, www.DomesticPreparedness.com, and the DPJ Weekly Brief, and works with writers and other contributors to build and create new content that is relevant to the emergency preparedness, response, and recovery communities. She received a bachelor's degree in international business from University of Maryland, College Park, and a master's degree in emergency and disaster management from American Military University.
No tags for this post.