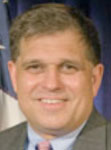 This report and survey is the result of aggregating and compiling opinions of both the DomPrep40 and DomPrep Readers. Both groups were asked how they view the apparent transition from thinking in terms of critical infrastructure protection to thinking in terms of critical infrastructure resilience. To assist both groups in developing their own ideas and recommendations, Dennis Schrader, former FEMA deputy administrator for preparedness, drafted a seven-question to-the-point survey.
Schrader says, "The results are not surprising. We have work to do to create an integrated network of public safety officials and the engineering community."
Key Finding: DomPrep members are more skeptical than the DomPrep40 are about the tangible preparedness outcomes deriving from the National Infrastructure Protection Plan (NIPP) both in the private sector and in state and local public safety agencies.
Click for Full Report
No tags for this post.