While much of the news media has been focused on the coronavirus pandemic, violent incidents continue to occur throughout the United States. The shutdown of sporting events, schools, concerts, and other large events has led to an overall decrease in active shooter incidents. In fact, March 2020 was the first March without a school shooting since 2002.
While active shooter events have recently declined, that does not mean they have not occurred. The past several months have seen many violent encounters, including:
May 20, 2020: Westgate Entertainment District, Glendale, AZ (3 people injured)
May 21, 2020: Naval Air Station, Corpus Christi, TX (1 person injured)
May 27, 2020: Centennial Bridge, Platte County, MO (2 people injured)
During this year's July 4th weekend (Friday-Sunday, July 4-6), the nation experienced 21 shootings. These shootings resulted in staggering numbers, which left 16 dead and 98 wounded. The shootings occurred at shopping malls, nightclubs, large private gatherings, and protest sites.
Since July 4, there has been a continued uptick in violent incidents. A brazen attack on July 20 led to the death of a federal judge's son after an individual dressed up as a FedEx worker. Also on July 20 in Las Vegas, numerous people ran for cover after a multitude of gunshots were fired outside of the Bellagio and Paris hotels. Even houses of worship have seen violent incidents. In Virginia on July 19, an assailant stabbed two individuals who were attending a Bible study class – including the police chief of Fairfax County, who was attending the event.
These incidents serve as an important reminder that violent incidents do not stop during a public health emergency.
Lessons Learned From the Las Vegas Mass Shooting
On 1 October 2017, Lacey Newman's life changed forever. While attending the Route 91 Harvest Music Festival in Las Vegas, Nevada, a gunman opened fire. While many, including Lacey, began to run, a lot of attendees thought the gunfire was fireworks, and they falsely believed there was no cause for alarm.
After ducking for cover a few times, Lacey realized she had been shot in the leg and was bleeding profusely. Her friend, with no prior medical training, sprang into action. She took Lacey to a safe space and called out for help; a passerby stopped and provided a belt. They applied a makeshift tourniquet to Lacey's leg, while her friend applied pressure to the wound, primarily using her entire body weight to stop the bleeding. Thankfully, these efforts saved Lacey's life, and she was able to make a full recovery.
In July 2020, DomPrep Advisor Andrew Roszak conducted an interview with Lacey Newman about her swift response to the mass shooting, and lessons learned.
Visit Lacey's website for more information about her efforts and current training initiatives: https://www.bleedingandbarefoot.com/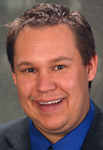 Andrew Roszak, JD, MPA, EMT-P, serves as the senior director for emergency preparedness at Child Care Aware® of America. He is a recognized expert in emergency preparedness, public health, and environmental health. His professional service includes work as the senior preparedness director of environmental health, pandemic preparedness, and catastrophic response at the National Association of County and City Health Officials; at the MESH Coalition and the Health and Hospital Corporation of Marion County, Indiana, as the senior preparedness advisor supporting Super Bowl 46 and the Indianapolis 500; as a senior advisor for the U.S. Department of Health and Human Services; on the Budget and HELP Committees of the United States Senate; and at the Illinois Department of Public Health. Before becoming an attorney, he spent eight years as a firefighter, paramedic, and hazardous materials technician in the Chicago-land area. He has an AS in Paramedic Supervision, a BS in Fire Science Management, a Master of Public Administration, and a Juris Doctorate degree. He is admitted to the Illinois and District of Columbia Bars and is admitted to the Bar of the U.S. Supreme Court. Twitter: @AndyRoszak