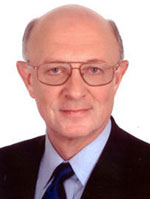 DomPrep's John F. Morton met with R. James Woolsey, Vice President, Booz Allen Hamilton. The former Director of Central Intelligence (DCI) provides his insights on the long-term threat posed by Hezbollah. He emphasizes, among other things, that Iran's increased oil revenues mean that Hezbollah can operate more covertly because it will no longer have to use U.S. cells to raise funds for its international operations.
DomPrep has divided the 32 minute interview into five segments.
Download full audio interview to your MP3 player.
Listen to Audio Segment One Who/what is Hezbollah?
The global war on terrorism should not be a fight against a tactic, but against an enemy. Like the Cold War, it will be a long and difficult open-ended conflict, this time against "Islamic Nazis." Hezbollah and its state sponsor, Iran.
Duration: 6 Minutes 50 Seconds
Listen to Audio Segment Two What has Hezbollah been doing in the Western Hemisphere?
Hezbollah's use of off-shore havens such as the Tri-Border Area of Brazil, Argentina, and Paraguay for training and logistical support. Woolsey also takes note of the relative success of the war against the Colombian drug lords as well as the convergence of terrorist and criminal networks in Hugo Chavez's Venezuela. The dramatic increase in Iranian oil revenues has virtually eliminated the need for U.S.-based Hezbollah support cells to raise money for its operations through criminal activities.
Duration: 4 Minutes17 Seconds
Listen to Audio Segment Three Is there an immediate threat to the United States?
The forgotten vulnerability of the unguarded Canadian border. How and why Hezbollah efforts to co-opt Muslim Americans are likely to fail.
Duration: 11 Minutes 58 Seconds
Listen to Audio Segment Four Are the law-enforcement tools now available adequate to the task?
How the barriers in the FBI that separate its intelligence operations from its criminal units are coming down. The need for better defined "criminal predicates" to initiate surveillance operations. Why the FBI still needs to develop an in-house culture that supports long-term penetration operations into terrorist networks akin to such successful operations in the 1950s and later involving the Communist Party and the Mafia. Should the United States have an MI5?
Duration: 4 Minutes 28 Seconds
Listen to Audio Segment Five What is the future threat?
The threat posed by Hezbollah's "false flag" operations. The strategy Hezbollah would probably use to conduct major operations against U.S. critical infrastructure. Hezbollah's worrisome counter-intelligence capability.
Duration: 4 Minutes 05 Seconds
R. James Woolsey, a vice president of Booz Allen Hamilton in the firm's Global Assurance practice, received presidential appointments in two Democratic and two Republican administrations, and served for twelve years in the federal government. He was director of central intelligence in 1993-95, under secretary of the Navy 1977-79, and general counsel to the U.S. Senate Committee on Armed Services 1970-73, and also served in several other high-level government positions.