During the past year, the Coast Guard has made significant progress in implementing a comprehensive port-security regime. Capabilities, capacity, communications, and collaboration – with a broad range of public and private stakeholders – all have improved during the execution of the Coast Guard's multi-layered defense-in-depth strategy to improve maritime security within U.S. ports and waterways.
Guided by the strategic DHS (Department of Homeland Security) goals encompassing awareness, prevention, protection, response, and recovery, the Coast Guard has both increased maritime domain awareness and created a security framework possessing both domestic and international dimensions. The new National Response Plan is being executed across all operations, and implementation of the Maritime Transportation Security Act of 2002 (MTSA) and the International Ship and Port Facility Security (ISPS) code has gone far to reduce vulnerabilities within the global maritime transportation system.
Despite this progress, however, a clear consensus exists that more must be done to reduce risk in a Marine Transportation System that Coast Guard Commandant Adm. Thomas H. Collins has described as at once the nation's "most valuable and vulnerable."
"We're not doing enough to protect our people in this second front," said Sen. Frank Lautenburger (D-N.J.) during a port security hearing this spring before the Senate Commerce, Science, and Transportation Committee. Rep. Jane Harman (D-Calif.), ranking member of the House Permanent Select Committee on Intelligence, described current port-security vulnerabilities as the nation's "Achilles heel" during a speech in Los Angeles earlier this month.
The Government Accountability Office (GAO) agrees. "More than three years after the terrorist attacks of September 11, 2001," the GAO reported in May, "concerns remain over the security of U.S. seaports and waterways. Seaports and waterways are vulnerable given their size, easy accessibility by water and land, large numbers of potential targets, and close proximity to urban areas."
The Coast Guard and other agencies in the maritime arena face numerous challenges in implementing a more effective port-security regime forged on the principle of mitigating risk through aggressive partnerships and improved capabilities. The age of the Coast Guard's active fleet (one cutter was commissioned in 1942) is clearly one impediment. "Continued risk reduction is contingent upon Coast Guard readiness and capacity," Collins testified before Congress in June. "It is no surprise, then, that readiness and capacity are the focus of my most pressing concerns in fulfilling maritime-security missions," he said.
Because most of the Coast Guard's current operational assets are projected to reach the end of their service lives by 2008, Collins sees the Integrated Deepwater System – a 25-year progressive modernization and recapitalization program – as the "enduring solution" to both the Coast Guard's declining legacy asset readiness and the service's, and nation's, need to improve security capabilities to reduce maritime risk in the post-9/11 world.
The Cornerstone of Future Capabilities
Testifying before the House Appropriations Subcommittee on Homeland Security in late July, Collins released new details on a single Deepwater post-9/11 implementation plan, which is now projected to require $24 billion in funding over 25 years. "It is the number one Coast Guard priority and the cornerstone of our maritime capabilities now and in the future," said Collins.
During earlier hearings, in June, congressional lawmakers asked that a single Deepwater funding stream be developed instead of a range of funding alternatives. Subsequently, with the full support of the Bush administration and DHS – the Coast Guard's parent agency – the Deepwater implementation plan was refined to provide a single long-range funding schedule for the Coast Guard's progressive sustainment, modernization, and recapitalization.
Collins told Congress that Deepwater's revised plan addresses the key issues of concern to Congress, including the sustainment of the service's air and surface legacy assets and the program's overall performance standards and measurements.
The Deepwater program's long-range plan now sets forth in specific detail the deployment schedule and delivery timeline for each air and surface asset over 25 years. Some increases in the number of aviation assets – notably, the Coast Guard's C-130 long-range maritime patrol aircraft – are projected under the refined plan to improve the Coast Guard's aerial surveillance and long-range transport capabilities.
Initially, the Integrated Deepwater System was designed to perform at the level that the Coast Guard's legacy Deepwater fleet performed at in 1998. "The tragic events of 9/11 and the stand-up of the Department of Homeland Security changed the performance requirements of the Coast Guard," Collins said. Revisions to the original baseline began almost immediately after the contract was signed (in June 2002, with Integrated Coast Guard Systems, a joint venture between Lockheed Martin and Northrop Grumman) to reflect post-9/11 requirements and ensure that the new assets being funded would have the capabilities to meet the system requirements projected.
In response to this need for change, the Coast Guard engaged in a series of internal and external third-party reviews of the Deepwater acquisition. In 2003, the Center for Naval Analyses completed a three-part study, and the Coast Guard's carried out its own Performance Gap Analysis (PGA). These and other studies influenced the final force structure selected for inclusion in the $24 billion, 25-year plan.
Under the revised plan, Deepwater cutters and aircraft will be equipped with the systems and enhanced capabilities needed to operate successfully in the post-9/11 threat environment. Deepwater's interoperable, network-centric system for C4ISR (command, control, communications, computers, intelligence, surveillance, reconnaissance), for example, will serve as a valuable force multiplier by providing a common operating picture and facilitating an increase in maritime domain awareness.
Similarly, improved asset capabilities for the detection of and defense against chemical-biological-radiological (CBR) threats are essential to survival and continued operations during an attack involving a weapon of mass destruction. "These and other Deepwater capability enhancements are absolutely critical to ensuring the Coast Guard's future ability to maintain the maritime security of America and to protect the nation's $450 billion marine transportation system," program officials say.
Some Security Gaps Remain
Deepwater's three types of new cutters and associated small boats, new or converted manned and unmanned aircraft, and improved systems for command, control, surveillance, intelligence, and reconnaissance all will play an important role in enabling the Coast Guard to close the gaps that still exist in the Marine Transportation System's vulnerable ports and waterways.
Senate and House appropriators are scheduled to confer in early September, following the summer congressional recess, to reach consensus on the funding level that they will endorse for the Deepwater budget for fiscal year 2006. Senate appropriators strongly support a level approximating the administration's $966 million request – a budget described by Coast Guard officials as a critical "first installment" on the revised Deepwater implementation plan.
Deepwater's program executive officer, Rear Adm. Patrick M. Stillman, makes a strong case that implementation of the revised Deepwater Program will do much to reduce the maritime risks associated with a possible terrorist attack. "The Coast Guard has made significant progress since 9/11 to secure our homeland," he said, "but maritime safety and security gaps remain. Admiral Collins has said many times that these gaps present risks that must be reduced. In this sense, the Deepwater Program is very much focused on reducing risk in the maritime domain."
Stillman also said that this year's revisions to the Deepwater program's Mission Need Statement and post-9/11 implementation plan were guided as well by the Coast Guard's strategy for improving maritime homeland security and the DHS's strategic goals and priorities. "Continued risk reduction is contingent upon improving the Coast Guard's capability, capacity, and readiness" he said. "Without these basic building blocks, successful implementation of maritime security strategies will not be sustainable."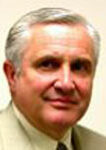 Capt. Gordon I. Peterson, USN (Ret.), a senior technical director with General Dynamics Information Technology, supports the Integrated Deepwater System's program office at U.S. Coast Guard Headquarters in Washington, D.C. During his 30 years of active duty, Peterson served in numerous senior-level public affairs assignments, including duty as special assistant to the chairman of the Joint Chiefs of Staff. A 1968 graduate of the U.S. Naval Academy, he served in Vietnam as a Navy helicopter gunship pilot. Following retirement from the Navy he was senior editor of the Navy League's Sea Power magazine and its annual Almanac of Seapower.