An Article Out Loud Flashback from the Domestic Preparedness Journal, October 10, 2012.
During a major disaster, saving lives and protecting the environment while ensuring public safety are all-encompassing priorities. As a catastrophe unfolds, decision makers at all levels of government are faced with a myriad of questions and/or issues that must be quickly addressed and resolved to return a sense of normalcy to the devastated region. Additional challenges would be presented if the catastrophe was the result of a terrorist attack using a weapon of mass destruction (WMD).
Narrated by Randy Vivian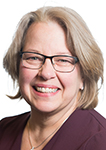 Ann Lesperance is the director of the Pacific Northwest National Laboratory's Northwest Regional Technology Center for Homeland Security (NWRTC). She is also on a joint appointment to Northeastern University-Seattle and leads efforts to build the master's program in Security and Resilience Studies and Urban Informatics. She was also awarded a Faculty Affiliate appointment with Northeastern' s Global Resilience Institute. Her primary focus is developing regional programs to accelerate the demonstration and deployment of new homeland security technologies. To accomplish this, she works with state and local emergency responders and public safety officials to understand and help prioritize their operational needs and requirements. She also builds regional coalitions of emergency management professionals to partner with U.S. Department of Homeland Security Science & Technology, the Department of Defense, and other federal agencies, and manages program implementation in the field. She is a recognized leader in response, recovery, and resiliency issues. Most recently, she was invited to join the National Academies of Sciences, Engineering, and Medicine Committee on Applied Research Topics for Hazard Mitigation and Resilience. The committee identifies applied research topics, information, and expertise to inform the science of natural hazard mitigation and resilience and enables applications of science, data, and technology.