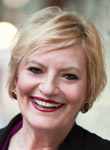 Emergency planners, responders, and receivers in the United States are preparing for an earthquake similar to – or even larger than – the one that just ravaged Japan. The Federal Emergency Management Agency's (FEMA) National Level Exercise 2011 (NLE 11), May 16-19, will address this concern and help the nation prepare and train for a similar disaster situation. Specifically, this exercise will simulate a major earthquake in the New Madrid Seismic Zone, the site of the largest earthquake in U.S. history (1811-1812). Participants will include federal, regional, state, tribal, local, and private-sector entities in the eight states (Alabama, Kentucky, Mississippi, Tennessee, Illinois, Indiana, Arkansas, and Missouri) covering four Federal Emergency Management Agency regions (FEMA regions IV, V, VI, and VII), plus Washington, D.C.
Bruce Piringer, Instructor at the University of Missouri Fire and Rescue Training Institute, and Col. (US Army, ret.) Fenton "Dutch" Thomas, Chief Operating Officer at My LifePlan Inc., join Kay Goss, Senior Principal and Senior Advisor for Emergency Management and Continuity Programs at SRA International and member of the DomPrep 40, in discussing the benefits of federal, state, and local cooperation when preparing for catastrophic events. Emergency planners understand that preparing for such events and scaling down for smaller events is much easier than preparing for small events and trying to expand those plans to fit a larger disaster scenario. Resources – allocation, management, and flow – are one of the biggest concerns for planners. For example, the Mississippi River flows through the center of the New Madrid Fault. What avenues are available for moving resources if those resources are located on the other side of the Mississippi?
Choosing the right staging area, pre-deploying resources so they are accessible during a crisis, planning for power outages, and expecting communication problems are all part of the planning process. Recent weather events – ice storms, floods, and earthquakes – have led to a modestly improved level of preparedness in at least some areas of the country, but that is not enough. NLE 11 will offer a full-scale multi-jurisdictional exercise, based on a worst-case scenario, that will make the nation as a whole better prepared for a major catastrophe of any type – natural or manmade. This type of planning – going beyond the government's current capabilities – is what Craig Fugate, Administrator of FEMA, calls the "maximum of maximums."
Click to listen to NLE Roundtable Interview.
Sponsored by