An Article Out Loud from the Domestic Preparedness Journal, February 08, 2023.
Most organizations have a daily operational plan for their communications that works most of the time and a backup plan for a short-term problem. However, many do not have a primary, alternate, contingency, emergency (PACE) plan for critical operational tasks. Learn more about the benefits of creating and maintaining a PACE plan.
Narrated by MacGregor Stephenson.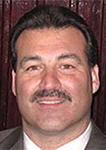 Charles J. Guddemi is the District of Columbia's Homeland Security and Emergency Management Agency's (HSEMA) statewide interoperability coordinator (SWIC). He is responsible for coordinating interoperability and communications projects involving voice, data, and video. He chairs the District's Interoperable Communications Committee and Cellular Industry/WiFi Provider Working Group. He serves as the secretary for the Statewide Interoperability Executives Council, is a member of the National Council of Statewide Interoperability Coordinators and FEMA's Region III Regional Emergency Communications Coordinators Working Group. He also participates on several Metropolitan Washington Council of Governments (MWCOG) committees and working groups. He joined HSEMA after a 25-year career with the United States Park Police (USPP). His assignments included working in Washington, D.C., New York Field Office, San Francisco Field Office, and the National Park Service Northeast Regional Headquarters in Philadelphia, Pennsylvania. He achieved the rank of deputy chief serving as the commander of the Services Division.