An Article Out Loud Flashback from the Domestic Preparedness Journal, September 19, 2012.  
As events of the past week have shown, the 18-month upheaval that has devastated Syria continues to present a major risk that the Syrian government's caches of CBRNE (chemical, biological, radiological, nuclear, and explosive) materials might fall into the hands of looters, defectors, opposition groups, and/or terrorist organizations. Moreover, as governments throughout the world continue to combat terrorism, groups with weapons-making capabilities, combined with clear intentions to acquire and use CBRNE materials, particularly nuclear, pose a threat of unprecedented magnitude.
Narrated by Bonnie Weidler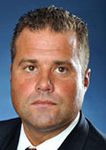 Richard Schoeberl, Ph.D., has over 25 years of experience, including the Federal Bureau of Investigation (FBI) and the National Counterterrorism Center (NCTC). He served in various positions throughout his career, ranging from a supervisory special agent at the FBI's headquarters in Washington, D.C., to acting unit chief of the International Terrorism Operations Section at the NCTC. In addition to the FBI and NCTC, he is an author of numerous articles on terrorism and security and has served as a media contributor for Fox News, CNN, PBS, NPR, Al-Jazeera Television, Al Arabiva Television, and Al Hurra. He works with the international nonprofit organization Hope for Justice, combatting human trafficking, and additionally serves as a professor of Homeland Security at The University of Tennessee Southern. He also is an advisor to the Domestic Preparedness Journal.