An Article Out Loud from the Domestic Preparedness Journal. 
From small fire companies covering large areas of rural land to large fire departments covering highly populated urban cities, suburban fire departments are tasked with a mixture of both. One firefighter who has spent his career in a suburban fire department shares the five key lessons he has learned throughout his career. 
Narrated by Bonnie Weidler.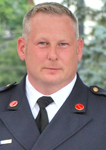 Randall W. Hanifen, Ph.D., CFO, FIFireE, is the Assistant Chief of Operations for West Chester Fire, an Associate Professor at American Public University, and a public safety consultant. He has a Ph.D. in Homeland Security Leadership and Policy. He is the associate author of the book "Disaster Planning and Control" (2009). He served as a task force leader for a Federal Emergency Management Agency (FEMA) Urban Search and Rescue Team, responding to presidentially declared disasters. He also serves in the planning section of a Type 3 Incident Management Team. He frequently writes and teaches on a variety of fire service executive development topics. He can be reached at Randall@Hanifen.org