Several weeks ago, the White House released the National Strategy for Pandemic Influenza Implementation Plan, a grim document that includes some stark assumptions:  30 percent of the U.S. population ill, up to two million deaths, estimated workspace absenteeism approaching 40 percent.
Under the White House plan, the federal government will continue to support to vaccine development, and will add to existing stockpiles of antiviral medications. In all, more than three hundred specific tasks are identified in the overarching publication.
Armed with large federal grants, states and cities throughout the nation are developing or refining their own pandemic influenza plans. However, there is an important question that has not yet been answered: Are any of those plans truly realistic, or are they built on an incomplete understanding of the science of influenza – and/or misguided speculation as well as, quite possibly, avoidance of the difficult choices inherent in responding to a public-health disaster of the magnitude expected?
If a pandemic were to occur in the near future, no "magic bullet" vaccine would be available. In fact, the tasks of tissue-culture vaccine development and, later, the distribution and use of broad-spectrum vaccines may take several years. As of the middle of May, moreover, only nine companies worldwide possessed the technology required to produce flu vaccines. If all of those companies switched production to a single monovalent vaccine, it has been estimated, only about 300 million doses could be produced in one year. That is the approximate population of the United States.
Ethical and Political Problems in Abundance
There are other factors that have to be considered. The development of a prioritization list for the distribution of antivirals, for example, would present major political and ethical problems. Those who already have been infected with the disease presumably would have the highest-priority access to medications – but that is not guaranteed. Beyond that, clear choices do not exist. So additional questions come up: Under what circumstances would a blanket community prophylaxis be considered –and would it What agency or combination of agencies should be assigned the responsibility of enforcing the guidelines? work?  Is it logical, or acceptable, to provide prophylaxis to healthcare workers, public safety personnel, and first responders – but not their families?
Also: Would it be ethical to protect prison guards while denying the same protection to the prison population – who, due to the close quarters to which they are confined, their higher-than-normal incidence of HIV and other immune-system diseases, and other factors, automatically fall into a high-risk category? Should priorities be based on an individual's social, economic, and/or political value to society at large? Or his/her anticipated life expectancy? Or a combination of these and other factors?
Finally, who, or what agency, should develop and disseminate the guidelines – by political leaders, probably, rather than by medical professionals? And what agency or combination of agencies should be assigned the responsibility of enforcing those guidelines? Unwise and Unwarranted Assumptions? Another major unknown is how long public health interventions and prophylaxis may be required. The administration's implementation plan assumes that a community will be affected by the pandemic for 6-8 weeks. Past pandemics, however, have lasted as much as 18 months, and sometimes longer. In free and open societies, nations such as the United States cannot be guaranteed immunity from reintroduction of the virus. The threat of repeated exposure may continue throughout the duration of the pandemic.
The use of personal protective equipment, not only by first responders but by the public at large, has been recommended. More specifically, medical healthcare experts have advocated the stockpiling of high-efficiency particulate-air (HEPA) filters for the general population, and positive-pressure air-purifying respirators (PAPRs) for first responders. The cost of building and distributing literally millions of these devices could be enormous, though, for what other experts believe might be only modest gains. Studies have repeatedly shown that, even among trained users, the blow-by of unfiltered air around HEPA masks is routinely in excess of 10 percent.  
Many planners also question the efficacy of surgical masks, and it should be remembered that those masks are designed not to protect the wearer from the environment, but to protect the environment (and other humans) from the wearer. Moreover, masks provide the added benefit of serving as a constant reminder that standard operating procedures are not in order. The Approach of Armageddon? The 40-percent worker-absenteeism rate projected by the administration is in line with other recent surveys on the subject. But there is little evidence that enough has been done to lower that rate. One recent study of government workers indicates that over 70 percent of respondents were unaware of specific telecommuting policies in their own agencies' response plans.
Other workforce-sparing innovations, such as the use of minimum staffing standards for business-essential functions, and social distancing at the workplace, have yet to be seriously considered by the majority of U.S. employers. Most business plans also do not take into account: (a) the probability that absenteeism due to illness will be spread out over the duration of the pandemic, rather than exposing all workers simultaneously; and/or (b) that the vast majority of the stricken who recover will be immune from a recurrence of the disease.
Finally, the importance of a well-planned and – implemented public-information campaign, coupled with a responsible media, has not been stressed as a possible major determinant of the secondary effects of a pandemic. If the public does not have enough trust in the government to believe the information it is provided, all negative secondary effects will be magnified. Moreover, if the press does not act responsibly in its quest for the big story, the public may well perceive the situation in a worse light than it might actually be –and scenes such as those presented in recent television movies on pandemic influenza may become everyday realities.
In short, a broad spectrum of health, planning, economic, and political issues have to be resolved, at all levels of government, before any meaningful action can be taken to manage and mitigate a flu pandemic of any size. To date, very few of those issues have been addressed in any detail. Meanwhile, each day that passes brings a potential new flu pandemic of unprecedented scope that much closer to reality.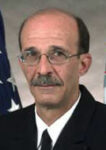 Dr. Jerry Mothershead is the Physician Advisor to the Medical Readiness and Response Group of Battelle Memorial Institute. An emergency medicine physician, he also is adjunct faculty at the Uniformed Services University of the Health Sciences in Bethesda, Md. A graduate of the U. S. Naval Academy, Dr. Mothershead served on active duty in the U.S. Navy in a broad spectrum of clinical, operational, and management positions for over 28 years, and has served in an advisory capacity to numerous local, state, and federal agencies in the fields of antiterrorism, disaster preparedness, and consequence management.