While the United States continues to suffer under the weight of yet another change in security protocols, several questions remain unanswered as to why the U.S. government has not put into effect a security system similar in most if not quite all ways to the one the Israelis have been using – with remarkable success – for many years.
The most obvious, and most important – but perhaps not truly answerable – question is this: How can the United States make American society more like Israel's, which has dealt with far greater terror threats for many years, and with far less inconvenience?  During a recent trip to Israel, a group of U.S. responders [including the author of this article] observed how the Israelis cope with terrorist threats on a daily basis.
Valuable lessons were learned by the American responders on each and every day of the trip as different aspects of the Israeli culture were observed. It quickly became evident, for example, that the everyday life of Israeli citizens is seldom disturbed by the constant threat of an outside attack – primarily, it seemed, because a mindset of safety and security is deeply imbedded within the Israeli people, and that mindset has becomes part of the everyday national lifestyle. The Israelis have learned to be, and are, concerned about terrorism – but they do not allow it to ruin their lives; instead, they have learned to be personally and collectively observant and to rely on a security force that is in many but not quite all ways transparent – to visitors as well as to the Israelis themselves.
The Israeli security force is composed of all of the nation's emergency services including EOD (explosive ordnance disposal), fire, police, and medical-response teams, as well as internal security agencies – all members of which are trusted members of the community. Collectively, and as individual citizens, these teams, agencies, and organizations not only protect but also educate their neighbors and friends by their own constant vigilance and awareness.
Visibility, Simplicity, Common Sense, Transparency
While traveling throughout the State of Israel, which covers a land mass slightly smaller than the state of New Jersey, the American observers also noted that the Israeli security process is not only visible but also, in many respects, transparent. There are both uniformed and non-uniformed security officers and responders at malls, shopping centers, office buildings, even walking the streets – but they are blended into and have become part of the environment. There are a number of locations, of course – government buildings, and military posts, for example – where visibility is important because it acts as a deterrent. But the visibility of security personnel is seldom if ever threatening to the general public.
The most amazing aspect of such transparent security, perhaps, is that every man, woman, and child (except very young children) living in Israel is part of it. An unattended bag, a person acting suspiciously, and aberrant behavior of any type is almost always quickly reported – and just as quickly acted upon, even if the action taken is simply a law-enforcement officer asking a question or two. One obvious example of this is evident to visitors arriving at the entrance to Ben Gurion Airport, which is the hub of travel for all of Israel. As visitors enter the airport property they must go through a security checkpoint where a law enforcement officer asks a few simple questions – for example, "Who are you?"; "Where are you going?"; and "How long have you been in Israel?"
It quickly becomes obvious that the security officers not only (are looking for incendiary or explosive materials – grenades, guns, and bombs, for example – but also, and of much greater importance, are seeking to detect any of several various human factors (nervousness, hesitant and/or confusing answers, etc.) that indicate there may be a problem. From this point forward the security system is observing people on a continuing basis from the time they exit their transportation vehicle until they board their aircraft.
Here it is important to note that there are several rings of security at Ben Gurion that must be crossed to travel from the entrance of the airport to the boarding gate. In short, it is a simply amazing system that combines technological capabilities with common sense, due diligence, and a close to national mindset. The way the Israelis carry out their "profiling" of visitors includes a significant difference (from the American way) that is worth emphasizing – namely, that the Israelis profile Everyone. History has shown that the Israeli system works – exceptionally well – and the observers' trip through the airport provided an excellent example of how and why it works.
Human Factors: The Most Important Component
What is perhaps even more important is that the Israeli security system works with minimum interference with the everyday pursuits of the individual citizen. From the arrival at the first checkpoint to the gate to board an aircraft, for example, it took less than 40 minutes for the American visitors to pass through all of the security checkpoints involved.
This same level of security, which is demonstrated daily throughout the country, provides an interesting perspective to a first responder from another part of the world where security is taken for granted. During the past 12 months there have been two examples of U.S. security breaches that – most if not all U.S. (and outside) security experts agree – would not have occurred if changes had been implemented through which the United States had been able to used the Israeli methodology of security. Both of those incidents – the Fort Hood shootings and the attempted Christmas Day bombing of a passenger aircraft bound for Detroit – probably could have been prevented if U.S. security agencies had used the "human factors" approach to security that the Israelis have used so well for so many years – and that have become that nation's front line of homeland defense.
There is a need to learn from Israel, and from other U.S. allies throughout the world, much more about the human facets of front line security. The nation's first-responder community, which already has become an important tool in the global war on terrorism, must be encouraged to take the golden opportunity now available to educate themselves to be much better prepared than they now are in observing, and acting upon, the human factors which, all evidence shows, may well be the most important component of an effective homeland-defense policy.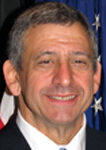 Glen Rudner retired in 2022 as a manager of environmental operations for the Norfolk Southern (NS) Railway with environmental compliance and operations responsibilities in Tennessee, Alabama, Mississippi, and Louisiana. Previously, he was the hazardous materials compliance officer for NS's Alabama Division (covering Alabama, Mississippi, Louisiana, and southwestern Tennessee). Prior to NS, he served as one of the general managers at the Security and Emergency Response Training Center in Pueblo, Colorado. He worked as a private consultant and retired as a hazardous materials response officer for the Virginia Department of Emergency Management. He has nearly 42 years of experience in public safety. He spent 12 years as a career firefighter/hazardous materials specialist for the City of Alexandria Fire Department, as well as a former volunteer firefighter, emergency medical technician, and officer. As a subcontractor, he served as a consultant and assisted in developing training programs for local, state, and federal agencies. He serves as secretary for the National Fire Protection Association Technical Committee on Hazardous Materials Response. He is a member of the International Association of Fire Chiefs Hazardous Materials Committee, a member of the American Society of Testing and Materials, and a former co-chairman of the Ethanol Emergency Response Coalition. He served as a member of the FEMA NAC RESPONSE Subcommittee.