The concept of the Rescue Task Force (RTF) came from the Arlington County
(Virginia) Fire Department. Looking at active shooter events around the country, these fire department
leaders created a model that enables emergency medical services (EMS) to provide emergency medical
intervention faster and within the Incident Command System (ICS) construct.
Known as "warm zone integration," the RTF concept uses the phrase "Task Force," which is an ICS term for a unit consisting of mixed resources assembled to meet a specific tactical need. Regardless of the name, the RTF should be able to integrate easily into public safety agencies anywhere. The RTF consists of EMS and law enforcement personnel who work together to provide immediate basic medical care to victims. This differs from Tactical EMS, which usually focuses on medical care for the responders.
The Current EMS System
Civilian EMS personnel are not combat medics, so they do not go into the line of fire like
their counterparts may in the military. In a traditional response to an incident involving gun violence,
EMS personnel set up in a staging area and await word from law enforcement that the building is declared
clear and secure. However, when people are bleeding out and dying in mass casualty incidents, the
urgency of medical care is being pushed to new limits.
As part of the RTF concept, three zones must be understood:
The Hot Zone – The area where there is a known
hazard or threat to life that is potentially direct and immediate. This includes any uncontrolled area
where the active shooter could directly engage people.
The Warm Zone – The areas where law
enforcement has either cleared or isolated the threat, and the risk is minimal or has been mitigated.
This area may be considered clear but not secure.
The Cold Zone – The area where there is little
or no threat. It may include the outside of the building or an area law enforcement has secured. It is
safe to operate in this zone.
In its initial stages, an active shooter incident in a building makes the entire building the
hot zone. Law enforcement personnel immediately move toward the shooter to stop the attack and prevent
more injuries or deaths. As law enforcement personnel move inside and begin to secure parts of the
building, these areas become warm zones because there is some certainty that the shooter is not in the
immediate vicinity. This is where EMS personnel could have an opportunity to join law enforcement and
make entry to locate and treat victims, even as other officers search for and neutralize the suspect.
Keep in mind that incidents with multiple shooters make this more difficult for first responders.
What the RTF Concept Offers
The RTF concept focuses on the needs and care of victims, not responders. EMS members of the
RTF work with patrol officers to deliver immediate medical intervention for readily treatable injuries,
like severe bleeding and airway compromise. The team then stabilizes victims for evacuation to
definitive care.
The RTF provides "point of wound" care to victims where there is an ongoing threat. These teams
(there may be more than one) treat, stabilize, and remove the injured in a speedy fashion under the
protection of armed law enforcement. Although the RTFs operate in the warm zone, they do not engage in
triage. Injured persons encountered by RTF teams are treated as they are reached. People who can walk
without assistance are directed to self-evacuate down a cleared corridor under law enforcement direction
(within the warm zones).
This process requires coordination between law enforcement and EMS personnel. Incident command
needs to direct the RTF to locations where they are needed. That means the RTF would probably be under
law enforcement command, but the RTF is essentially a unified command asset.
Initially, those first on the scene – both bystanders and victims – may provide aide to one
another before responders arrive. First responders may direct them to provide aide to each other until
the RTF reaches them. Injured victims may eventually be placed in a casualty collection point (CCP)
before being moved to a cold zone, where they can be transported to definitive care. Where survivors are
placed is determined by initial responders and should be communicated to the RTF teams through unified
command.
Challenges for Implementation of This Model
The RTF model presents some challenges. Members should be equipped with the proper tools –
including Kevlar helmets and body armor – to operate in dangerous environments. This may prove to be an
issue for EMS, as EMS organizations often include volunteers. Issues of purchasing the equipment, sizing
protective gear to fit EMS staff, and storing additional tools and equipment in ambulances can prove
difficult.
As local jurisdictions adopt the RTF concept, it is important everyone involved understand how
teams will operate. There is no "one way" to develop an RTF. The important issue is that law enforcement
and EMS know how to integrate and understand their own written policies to work as an RTF. Policies and
training dictate how they interface during a response. Although there may be some differences from one
area to the next, the basics remain the same: identify those wounded, determine the need for emergency
medical care, and extract those injured to a CCP. Patients eventually are evacuated to an external CCP
well outside the building to a secure location where traditional EMS care is initiated.
As with any emergency incident, it is important to achieve mutual communications to coordinate
the RTF during an incident. This requires training together and conducting drills so the coordination of
the RTF becomes second nature. Failing to train together can reveal challenges that were not considered
in the planning phase. For example, RTF officers provide security for EMS personnel as they move into
the building and down corridors secured by initial contact teams. These escort officers cannot wander
off once they get EMS on site. They need to understand their role and remain in place to provide
security for the medics while they treat victims.
When public safety staff members are unarmed, it is known upfront that these members would not
be part of the initial entry. However, if members are trained to assist in rendering emergency first
aid, they can be proactive and perform a critical task. EMS resources may be limited, so having
personnel assist could go a long way in saving lives. However, the RTF concept only works if personnel
have what they need to participate.
Providing Additional Medical Assistance
If staff cannot participate in an RTF, they could still render assistance to responders. They
may assist in establishing an internal CCP near a secure entry point, where casualties can be grouped to
allow for faster and more efficient evacuation by non-RTF EMS personnel. Having body movers available
for staff may allow them to assist in moving victims from a warm zone to a cold zone. Having them
trained and equipped in the use of tourniquets and hemostatic gauze, for example, may make staff
invaluable for saving lives.
Beyond traditional first responders, it is important to remember the first
"first responders," which are the people on the scene when the incident happens. For example, stocking
up on bleeding control kits and training staff in using tourniquets as part of the "Stop the Bleed" campaign may
save lives. For all facilities or institutions, though, understanding the RTF is critical to
understanding what to do to save lives. Being an armed or unarmed agency does not prevent personnel from
rendering aid. The training and background of these agencies may make their staff good candidates for
the RTF.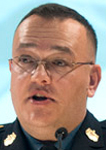 Robert Mueck is an adjunct associate professor of public safety administration and homeland security at University of Maryland, Global Campus, and director of public safety at St. John's College in Annapolis, Maryland. He currently serves as a committee chair of the Governors Active Assailant Interdisciplinary Working Group in Maryland, and is an adjunct faculty member for the Texas A&M Engineering Extension Service (TEEX), where he was part of the CCTA project for the Texas Department of Public Safety. He retired after a 29-year career at the University of Maryland Police Department (UMPD), having served in a variety of capacities in operations, administration, and command positions.