I keep six honest serving-men: (They taught me all I knew) Their names are What and Where and When And How and Why and Who. –Rudyard Kipling (April 1900)
As in Kipling's poem, protecting the infrastructure requires asking many questions. To begin, "What critical infrastructure needs to be addressed?" Planners must identify critical infrastructure components, beginning with the required work functions. In most cases, agency officials could summarize what their agencies do in just a few bullet points. For an emergency medical services (EMS) agency, these points might include:
Respond to the scene of emergencies;
Provide lifesaving and supportive care; and
Transport patients to the hospital.
Added to this list should be any functions that are required by statute – for example, in the state of New York, this would include:
Provide a quality assurance officer to perform quality review;
Supply and equip ambulances to the standard laid out in Part 800 of the statute; and
Have one licensed physician as medical director per 100 paramedics.
Each of these six responsibilities are integrated within the critical infrastructure: responding and transporting require a functional vehicle; providing care as well as supplying and equipping ambulances assume that vehicle is fully stocked to the standard; and all six assume minimum staffing of paramedics and/or emergency medical technicians. In addition, the call for help has to be received and the unit must be dispatched, which requires more staffing, a fixed facility, and a radio system.
Working Groups & Budgets
After creating a list of critical functions, there needs to be a review of each infrastructure's needs. A working group assigned to review a specific asset would be able to better build a team that includes the expertise needed to do more than a surface evaluation. For example, review of a dispatch system may require more than simply a radio communications person. The team also may need facility expertise, knowledge about information technology, and EMS experience to form a complete picture of the asset and its requirements. This team then would perform a multistep process: (a) assess; (b) identify both current and projected future shortfalls; then (c) create an action plan that includes time frames for completing the work.
Planners and managers often hear the questions, "Why does this money need to be spent? And why now?" A critical infrastructure project typically can be justified by one of the following four statements:
The infrastructure is at risk of failure and needs to be maintained or repaired;
The infrastructure needs to be updated in order to comply with a standard/statute;
The infrastructure is at risk from an outside threat; and
Improvement of the infrastructure will save or make money in the long term.
However, the tough question that is ever present is, "Who pays?" A useful strategy is to determine the work needed as if funding were not an issue. This develops the ideal plan, after which planners can develop a number of lesser proposals at different price points. The planner then should assess the current budget, grant opportunities, and possible community partners who might be able to provide funding before the planner must request additional government funding. In this way, planners limit their number of requests for additional funding and are more confident that their funding requests are actually necessary.
Elements for Success
A model that could be adapted for any action plan could include the following questions:
What asset requires attention?
Why does it need to be protected?
How will the infrastructure be maintained, improved, and protected?
Who will be responsible for performing each task?
When are the deadline(s) for each task?
Where will the work be completed?
All the elements for success are articulated when the work is linked to a set time frame, specific funding, and detailed responsibilities. There are no guarantees of success – each time an infrastructure asset is examined, there is the potential for discovering unforeseen needs – but having a clear plan would help limit any problems that arise.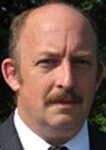 Joseph Cahill is the director of medicolegal investigations for the Massachusetts Office of the Chief Medical Examiner. He previously served as exercise and training coordinator for the Massachusetts Department of Public Health and as emergency planner in the Westchester County (N.Y.) Office of Emergency Management. He also served for five years as citywide advanced life support (ALS) coordinator for the FDNY – Bureau of EMS. Before that, he was the department's Division 6 ALS coordinator, covering the South Bronx and Harlem. He also served on the faculty of the Westchester County Community College's paramedic program and has been a frequent guest lecturer for the U.S. Secret Service, the FDNY EMS Academy, and Montefiore Hospital.