The emergency response community should adopt a holistic approach for meeting challenges as a team. For community hospitals, this may mean changes in how they provide emergency medical services (EMS) to surrounding areas and how they hire and train staff. Although many agencies have promotional ladders built into their structures, many medical positions have licensing requirements that create ceilings for advancement. As a result, a staff member who reaches one of these ceilings must start his or her training over in order to advance. For example, an emergency medical technician (EMT) can advance to intermediate EMT, paramedic, supervising paramedic, or EMS educator. However, an EMT cannot apply his or her training and experience to other – better paid and, often more importantly, less physically strenuous – positions such as "physician assistant" (PA).
Retaining Valuable Resources
In addition to the EMT ladder, nurses at the same facility climb another ladder: a certified nursing assistant can progress through licensed practical nurse, registered nurse, and ultimately to nurse practitioner. Without the ability to advance, staff members may leave the employer altogether. However, changes in training programs and planning efforts can help build on the skills and knowledge in which hospitals and communities have already invested.
At the agency level, programs could assist staff in climbing the ladder from the entry level to the highest level of employment – either by paying paramedics to go to PA school, or providing support such as scheduling accommodations. In return, the employee continues to work for that agency with a new title in the available open positions. All training programs must serve the needs of the students and prepare them for the jobs they are training for, but they also should consider the whole picture when planning program structures.
Alignment, Scheduling & Training
The information learned in an EMT program continues to build as the EMT moves through future EMT intermediate or paramedic programs. A bridge from paramedic to PA would require: (a) coursework alignment; (b) flexible scheduling; and (c) added training.
The first step is for training facilities to assess the required accredited coursework for EMT, EMT intermediate, and paramedic degree programs to determine how they align with the prerequisites and course work for the PA programs. Next, PA programs must be more flexible in their scheduling. Currently, the majority of PA programs are cadre based – that is, a group of students start together, take classes full time, and finish together. Unfortunately, a paramedic working full time would have difficulty meeting this requirement. A part-time program, though, could provide more flexibility in scheduling and allow the paramedic to apply credits gained from their past training to the PA program.
Alternatively, hospitals and training facilities could develop a new program above paramedic that would offer training, licensing, and employment as an intermediate step between paramedic and PA. There have been many discussions about a "community paramedic" program, which would include performing primary-care functions within the community. Hospitals then could define additional roles.
Being a paramedic, a leader in EMS, and/or an educator of the next generation of EMS is an admirable goal, but the job is physically demanding – for example, a two-paramedic team must be able to carry 75 pounds of gear plus the patient to the ambulance. Although many EMS providers retire after full careers in EMS, many also suffer disabling injuries or less dramatic but equally career-ending degenerative damage to their joints. With limited supervisor or educator opportunities, it is important to foster other opportunities to keep these experienced professionals working – not only for their own good, but also for the good of the entire community.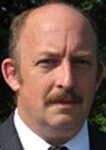 Joseph Cahill is the director of medicolegal investigations for the Massachusetts Office of the Chief Medical Examiner. He previously served as exercise and training coordinator for the Massachusetts Department of Public Health and as emergency planner in the Westchester County (N.Y.) Office of Emergency Management. He also served for five years as citywide advanced life support (ALS) coordinator for the FDNY – Bureau of EMS. Before that, he was the department's Division 6 ALS coordinator, covering the South Bronx and Harlem. He also served on the faculty of the Westchester County Community College's paramedic program and has been a frequent guest lecturer for the U.S. Secret Service, the FDNY EMS Academy, and Montefiore Hospital.