The emergency managers of the western United States – historically known for its vast frontier and arid climate – have always understood the importance of water. As the most populous state, California is home to leading enterprises, including a global agricultural industry, and a complex water system, but there is a growing demand for water. After three consecutive dry years, the state is experiencing an extreme drought that is calling on all Californians and the federal government to respond and mitigate the widespread effects.
A New Drought Task Force
Understanding the evolving change in climate and the impacts of the drought on all sectors of society, Governor Edmund G. Brown Jr. established a Drought Task Force in December 2013. Members of the task force include: the Department of Water Resources, the Department of Food and Agriculture, the State Water Resources Control Board, and the California Governor's Office of Emergency Services (Cal OES) to coordinate the state's response.
To put the severity of this drought into perspective, California needs nearly a foot of rain to restore water levels to normal. According to the state's Department of Water Resources, though, there is only a 1-in- 1,000 chance of that happening. B. Lynn Ingram, professor of earth and planetary science at University of California-Berkeley, and Frances Malamud-Roam, senior environmental planner and biologist at the California Department of Transportation, reported on 3 February 2014 that 2014 might be the driest in the past 500 years.
Water, of course, is a valuable and limited resource, but this drought has stretched the availability of this commodity to the extreme. Based on conditions and recommendations from the Drought Task Force, Governor Brown took emergency action on 17 January 2014 by raising the awareness of the dwindling water supply and declaring a statewide state of emergency. In early March 2014, the Governor signed into law a measure to counter the effects of the drought by allocating $687 million for drought-relief programs. Earlier this year, partner agencies in the Drought Task Force began holding government-to-government meetings across the state, as well as drought assistance workshops for the public, farmers, and business owners.
Mapping, Trends & Predictions
Meteorological and climatological studies predict that, although this drought is perhaps the worst California has ever experienced, the state should anticipate even more brutal weather extremes – including hotter summers and longer freezes. Cal OES now must coordinate all of the various state, federal, and local agencies for one unified mission. With 58 counties, millions of residents, and millions of visitors and tourists, Cal OES is leveraging its pool of disaster mitigation specialists and first responders. The state's mutual aid system, adapted from the strategic responses to the state's massive wildfires, is a model for many jurisdictions around the world.
Mapping this widespread disaster has been critical to understanding and prioritizing current short-term and long-term resource and service needs. The National Aeronautics and Space Administration (NASA) and California's Department of Water Resources have a partnership to monitor and measure precipitation, snowpack, groundwater, fallowed lands, and levee integrity throughout the state. This mapping technology has been essential to managing this emergency with a strategic long-term plan.
NASA's program called Gravity Recovery and Climate Experiment (GRACE) is using satellites to monitor changes in the Earth's mass and estimate water-level changes. A 2009 analysis from GRACE showed that the level of groundwater reduction in the Sacramento and San Joaquin River Basins between 2002 and 2013 is enough water to cover the entire state of Pennsylvania to the depth of one foot.
Cascading Disasters During Response & Recovery
A drought is unique in the world of emergency management. It moves slowly and chokes the resources of a region. According to the U.S. Drought Monitor, the drought is affecting more than 99 percent of the state, which encompasses more than 150,000 square miles. With an earthquake, fire, or flood, disaster response is swift and relatively short-lived compared to a drought. A more traditional disaster has its longest chapter in the recovery, not so with a drought. The progressively complex response phase could be as long or longer than the recovery.
The current drought also could be a strong indicator of a long and busy fire season in California. Since the beginning of 2014, there already have been 812 fires, which is well above the average 274 for this time of year. Due to the drought conditions, 17 counties have proclaimed a state of emergency and the U.S. Department of Food and Agriculture has proclaimed that every county in the state is under an emergency designation for the second year in a row.
Additionally, with large swaths of agricultural lands going unseeded and/or unwatered, valley fever is a growing concern for state health and agricultural officials following a deadly 2013-2014 flu season – as of 14 March 2014, the California Department of Public Health has confirmed 332 flu-related deaths within the state. According to the Centers for Disease Control and Prevention, the number of reported cases of valley fever has increased dramatically from 2,265 in 1998 to 22,401 in 2011. This deadly disease, which tore through Arizona in 2012 and hospitalized more than 1,000 people, is endemic throughout the southwestern United States and specifically the California Central Valley.
California's Call to Action
Emergency managers often preach personal preparedness: get an emergency kit; make a family evacuation plan; know the community's risks; and, particularly in the case of droughts, conserve personal water use. Although generally responsible and environmentally conscious, Californians still contribute to consequential water waste on a daily basis. As part of the governor's charge to the state and to the Drought Task Force, all Californians must rethink and reduce their water use. Cal OES provides several Public Service Announcements on its website to quickly educate the public on how one small change to a daily routine can help mitigate this statewide emergency.
Cal OES also is working with state, federal, local partners, and public followers on social media for idea sharing on creative ways to conserve water. California is not in this alone. States like Texas, Arizona, and Colorado also are taking drastic measures to tighten water allotments and conserve their preciously limited resources. It is clear there is a lot of innovative work to do, on a scale that many may never have thought possible a few years ago.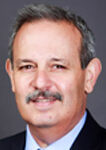 Mark Ghilarducci is vice president and director of the Western States Regional Office of James Lee Witt Associates, providing technical expertise and consultation services to government and private-sector clients in the fields of Crisis and Consequence Management, Emergency Services, Homeland Security, and Government Affairs. A 1987 graduate of the University of California at Davis and a 1998 graduate of Harvard University's Kennedy School of Government fellowship program for senior executives in state and local government, he has over 25 years of diversified service in the fields of emergency management, fire, and emergency medical services. A former deputy director of the California Governor's Office of Emergency Services (OES), he also chaired the Technical Committee of the state's Standardized Emergency Management System. He has lectured at numerous colleges and conferences throughout the world, has provided instruction and consultation services to many foreign governments, and has been a contributing author to several trade journals and technical books.