No response, no matter how successful, is ever complete without an honest after-action review, which if properly carried out leads to the extension of successful tactics and discontinuation of the unsuccessful ones. It also allows sharing this information with response partners and other agencies that could use the information to improve their own emergency plans and therefore enhance the overall safety of the entire country.
After the disastrous hurricane season of 2005, U.S. local, state, and federal responder agencies not only retooled their previous plans but also formed several strategic alliances, applying the lessons learned from Katrina to improve preparations to meet future disasters of similar magnitude – or close to it. The Gulf Coast did not have to wait long to see these "new and improved" plans tested by Mother Nature in the form of new hurricanes today known as Rita, Gustav, and Ike.
The Post-Katrina Emergency Response Act reaffirms the primary role played in a Katrina-type disaster by the Department of Homeland Security's Federal Emergency Management Agency (FEMA): namely, coordinating the federal response with the responses of the state or states directly involved; providing appropriate federal resources quickly, effectively, and in the quantities required; and disseminating information as and when needed about the overall availability of federal resources.
Prior to Katrina, FEMA's principal role before a disaster was, and continues to be, to provide guidance and assistance to state, local, and other response officials. One of the most effective ways in which FEMA does this is through its "gap analysis" program, which focuses on identifying potential future needs of various cities and states, and sharing that information with the jurisdictions likely to be affected. Thanks in large part to their increased level of awareness, state and local planners are now able to enter into agreements with federal agencies – and with other partners on the state and local levels, as well as with the private sector – to increase the availability of essential resources in future times of need.
Three Goals, Annual Exercises, and Unstinting Effort
A milestone gap analysis program for Louisiana was completed in June 2007. After the experiences of Katrina, FEMA spent considerable time and effort on the development of pre-event gap analyses with Louisiana's state and local agencies, giving special priority to evacuation routes and shelters, fuel and emergency power requirements, virtually all modes of transportation, and other literally life-or-death essentials.
Immediately after Katrina the New Orleans Office of Homeland Security and Emergency Preparedness began work on the development of a new plan for "citizen-assisted evacuation." That plan started with three primary goals, as follows: (1) Provide greater support to citizens who need special assistance; (2) Create and maintain an environment in which  the always difficult decision to evacuate becomes more desirable than remaining behind; and (3) Implement the measures needed to significantly enhance the security of the city's own material and personnel resources.
New Orleans worked throughout this forward-looking period in close cooperation with the four parishes (Orleans, Jefferson, Saint Bernard and Plaquemines) in the UASI (Urban Area Security Initiative) region on both short- and long-term planning; various components of the plan were evaluated during annual exercises developed and carried out in coordination with the Department of Homeland Security.  
Planes, Trains, Buses, and Automobiles
In order to empty a city officials must use any and all means of transportation available. Any relatively large evacuation should and usually does start with encouraging (or ordering) the population that has the resources to do so to move themselves out of the city. The very first thing to do, though, is to prepare the population for the possibility of an evacuation before a plausible threat is even on the horizon. With the "pre-education process" in place an emphatic order to evacuate, issued fairly early in the disaster scenario, will significantly improve the effectiveness of the process.
Everyone who is left in the city must be moved by the emergency resources available to the city itself. As a major tourist destination, New Orleans must account not only for the evacuation of its own citizens but also for moving out the tourist population and other visitors. The long-term ramifications to the tourist business stemming from the deaths of tourists cannot be overstated. In New Orleans, additional flights of passenger aircraft were put onto the schedule to allow many visitors to leave the city earlier than they had planned.
Amtrak trains also were used to move large numbers of people – visitors and residents alike – away from the city. In addition, special emphasis was placed on the parishes as the decision makers during the pre-planning period set for evacuating the communities nearest to the coast. The collection points for the pickup of evacuees by buses were set by local leaders and incorporated into the regional plans. It was considered particularly important that each parish make its own decision on the evacuations.
Well-Fed Buses, Well-Spoken Roads
Feeding these several modes of long-range transportation out of the area was the task of the regional bus system, which was augmented by buses originally destined for the Department of Defense (DOD) but made available for hurricane evacuations under contracts issued through the federal government's General Service Administration (GSA). The individual parishes designate the specific "collection" locations for people who could not evacuate themselves. The parishes request buses on an "as needed" basis and the Louisiana Department of Transportation and Development dispatches the buses to move the people (some 27,000 of them during Hurricane Gustav).
Trying to empty a city as large as New Orleans is not an easy task by any standard of measurement. Most American cities are built with a system of highways spreading out from the center city like the spokes of a wheel – a perhaps unimaginative but quite functional way that allows most suburban commuters in most cities to get to and from work every day without too much difficulty. Every one of those commuters knows soon enough, though, that there are frequent slowdowns on every one of the highways used for their daily drives (or rides) into and out of the city.
Contraflow, the term used to describe the use of inbound lanes for outbound traffic (or vice versa), is an emergency tactic that effectively doubles the one-way capacity of a highway. In an evacuation, contraflow "repurposes" all existing pavement to move as much traffic as possible away from and out of the city both quickly and safely. The use of a contraflow plan is not without its drawbacks, though – all entrance ramps have to be very carefully controlled, for example, so that drivers do not try (usually by accident, but sometimes intentionally) to use the contraflow lanes to drive into the city against traffic coming out of the city.
Contraflow also is very labor-intensive and, combined with the high emotions and general confusion characteristic of most disaster situations, creates an urgent need for a very large number of experienced law-enforcement officers positioned in twos or threes at almost every traffic exit or entry point on every evacuation route out of the city – one Louisiana State Police official estimated that close to 900 armed policemen would be needed to staff all of the traffic control points out of New Orleans during a mass evacuation of the entire city.
An Effective Plan to Deal With Minor Distractions
Used properly, though, a contraflow evacuation actually serves as a temporary but effective traffic-control plan focused primarily on keeping the cars and buses moving. This is accomplished in a number of ways. "Fuel exits" are clearly identified, for example, so that drivers running low on fuel will know that when they do have to exit there will be an open gas station nearby and they will not have to spend time, effort, and the little fuel they have left looking for a gas station that may not be there (or may not be open).
A successful evacuation also requires both air- and ground-patrol mobile units to seek out potential obstructions and even some seemingly minor but time-consuming distractions. Any commuter knows that a car disabled on the shoulder, even if it is not actually obstructing the flow of traffic, will almost always slow the flow of traffic and cause a backup.
An important issue that cannot be ignored in planning for the evacuation of a city is determining what to do about the special-needs populations of that city. These populations take many forms: mobility-impaired citizens, for example; non-English speaking residents; and people suffering from complicated medical problems. During Katrina there were many heart-rending articles about the problems encountered during the evacuation of nursing homes and hospitals – but the evacuation of the special-needs population is even more complicated.
Nonetheless, each and every person at risk has the right to expect the community to provide a reasonable opportunity, and way, for him or her to escape an oncoming and predictable disaster. For that reason alone, after a seemingly comprehensive, and workable, evacuation plan has been completed each step in the process must be re-evaluated with particular attention paid to the plight of the city's special-needs populations.
A Well-Deserved Validation
A major share of the time spent in improving and refining the revised Gulf Coast evacuation plans was focused on pre-education and communications – about both the approaching threat and the evacuation order. Both of these matters have to be: (a) addressed in languages that the general population will clearly understand; and (b) made available to the media in formats that they can easily access.
For the same reasons, evacuation plans must ensure and provide for: (1) the availability of routes that are handicapped-accessible; (2) ways to safely and quickly transport injured and bedbound patients from hospitals and other medical facilities; and (3) the sometimes unique accommodations required to safely move other unfortunate citizens lumped under the generic name "special needs population."
In short, the evacuation of a major metropolitan center is a massive undertaking. The Gulf Coast evacuation process prior to Hurricane Katrina and the somewhat haphazard sheltering of evacuees, as well as the inadequate response to those still trapped in various downtown areas of the Crescent City, made national news with images of people stranded on rooftops and horror stories of shelters seemingly out of control and without any support. Three years later, the worst problem that outside critics could find and write about was inadequate washroom facilities. Seen in that context, any workable plan that can get more than one million people out of the vulnerable Gulf Coast area to higher ground inland, with hygiene being the principal and perhaps only negative, is a major improvement.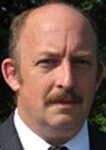 Joseph Cahill is the director of medicolegal investigations for the Massachusetts Office of the Chief Medical Examiner. He previously served as exercise and training coordinator for the Massachusetts Department of Public Health and as emergency planner in the Westchester County (N.Y.) Office of Emergency Management. He also served for five years as citywide advanced life support (ALS) coordinator for the FDNY – Bureau of EMS. Before that, he was the department's Division 6 ALS coordinator, covering the South Bronx and Harlem. He also served on the faculty of the Westchester County Community College's paramedic program and has been a frequent guest lecturer for the U.S. Secret Service, the FDNY EMS Academy, and Montefiore Hospital.