There has long been debate about the effectiveness and applicability of online learning for those seeking education in emergency service fields. For a field that has traditionally relied on hands-on education strategies to teach skillsets, some may question the process of learning in an online environment. However, online education is effective for persons seeking formal degrees or continuing education courses, as well as for those who want to pursue more vocational-centered es, such as firefighters and emergency medical technicians.
Working professionals have an increasing number of online education options available that are attractive because of their flexible scheduling, anyplace availability, and affordable cost structure. Although online courses are not ready to completely take over all the training and education in the emergency service world, they are proving to be a great and affordable solution for many needs.
Research Shows That Online Education Is Effective There is an overwhelming amount of data to examine regarding the effectiveness of online education. The easiest way to evaluate this data is to look at a 2009 meta-analysis report conducted for the Department of Education that evaluated 99 different studies of online learning over a 12-year span. This report found that students of online programs tested in the top 59 percentile and concluded that, "On average, students in online learning conditions performed modestly better than those receiving face-to-face instruction."
Therefore, research shows that online education is not only as good as traditional room education but, in some cases, can actually be better. To determine the right educational setting, it is important for prospective students to consider many factors, such as the material they want to learn, the type of learner they are, and the benefits of both online and traditional room learning.
Different Ways of Learning  Students may begin by considering whether the course material is primarily: 
Cognitive: Involves information processing and ways that people think, perceive, remember, and problem solve;

Psychomotor: Requires muscular activities guided by signals from the environment – for example, using a fire hose, performing emergency medical procedures such as intubations, or even practicing basic skills such as driving emergency service vehicles; and

Affect learning domain: Deals with student attitudes and values based on the education process – for example, a student may understand the concept of buckling a seatbelt (cognitive), may be able physically to do the task (psychomotor), but may not do the task as needed (affective).
In the case of fire service education, a student might need to increase his or her knowledge about the manufacturing materials used in a fire hose, which could be taught in an online room format. However, the psychomotor – or hands-on skill – of controlling a fire hose while applying water on a fire can only be mastered by physically doing it and would best be taught in a traditional room setting. In today's creative world of education, though, it may be argued that in some ways psychomotor and affect domains can be taught online. For example, the emerging computer simulators for Advanced Cardiac Life Saving (ACLS) and even fire pump operations that allow students to practice their skills from the comfort of their own homes.
Learning Styles & the Online room When considering educational options, each person needs to evaluate his or her own learning styles. For students who are primarily hands-on learners, it may be difficult to adjust to the online environment, which largely offers visual and auditory learning. Online education relies heavily on strong reading comprehension and writing skills to convey understanding of material rather than oral communication.
In general, online education requires students to be highly self-motivated and have the ability to manage time well. Professors are not physically present to push students to learn more. In addition, many online programs are designed asynchronously so that coursework is due at the end of the week and students are not required to be present in the room at any particular time. This can be a challenge for students who are not able to structure their time well.
The Reality of Today's Educational Environment Although students, instructors, and employers may use the word "easy" in discussions about distance education, this is a misconception. An online education is not easier or even less work, but it does offer more flexibility. When courses are conducted correctly, online education is actually harder and more time-consuming. Even when the course is shorter in terms of the number of weeks, the content is often condensed to cover the same amount of material as found in a traditional school semester.
Distance education has matured greatly in the past few decades. Although distance education began in the form of correspondence courses, challenge exams, and even audiocassettes, today's modern distance education programs are much more sophisticated. These programs include real-time presentations and lectures, adaptive tools, and computer-simulation tools. Many programs often provide the student with real-time access to the instructor.
Online programs offer flexibility for students who miss presentations to watch them later and to contact their instructors with questions. Video examples are widely used, especially in fire and emergency medical services training es. Videos provide students with constant access to visual demonstrations for review at any time. Student presentations also can be displayed online.
The Importance of Engagement in the room Education requires good instructors, regardless of the learning environment. Instructors should work hard to engage the student and be present, whether physically in a traditional room or virtually in an online setting. When evaluating programs, students should research faculty members and determine if their backgrounds and expertise match the students' desired areas of study and their career objectives.
The ways instructors engage students is slightly different depending on the setting. In a traditional room, the instructor may ask the students verbal questions to engage them and to assess their level of understanding about the material being taught. A similar technique is used in the online setting, but is often done through written discussion forums where students post responses to a professor's questions and engage in written discussions with other students. To provide a more real-time discussion experience, many online courses include a chat-room function where students and professors can engage with one another online.
The Key Purpose of Education When evaluating educational options, it is important to keep in mind the purpose of education. Often, students begin their educational journey focused on the end of the process; wanting a certificate or degree in hopes it will get them a better job. However, two sayings often come to mind when discussing the pursuit of education: (a) The real experience of a trip comes from the journey, not the destination; and (b) Each person gets out of an experience what he or she puts into it.
Whether someone chooses a brick-and-mortar or an online room, the journey is the important part. It is critical to enjoy the process of learning, to enhance one's knowledge, and to be able to apply what has been learned. The reward of education is greater than any piece of paper. It is about choosing the best journey, not the easiest way to an educational destination.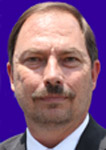 Kevin Kupietz, Ph.D., is a firefighter and paramedic by trade with more than 20 years of experience. He has taught in traditional rooms as well as in online formats for more than 15 years. He is an adjunct faculty for the graduate program of Emergency and Disaster Management at American Military University. In addition, he is a full-time school director of Fire/EMS at Halifax Community College in North Carolina. He also serves with the Roanoke (NC) Rapids Fire Department, RRT1 hazmat team and NC1 DMAT. He received his Ph.D. in human services, MS in occupational safety, and BS in fire engineering. In addition, he is an Executive Fire Officer (EFO) graduate.