The National Guard's newest civil support team (CST) passed its first evaluation last month, bringing it one step closer to being Florida's second fully accredited team capable of responding to WMD (weapons of mass destruction) incidents. The 48th CST, based in Clearwater, Florida, was evaluated on 16 December by specialists from the U.S. Northern Command during a day-long exercise at a Florida National Guard aviation facility in Brooksville (on Florida's west coast). The 22-person 48th, which is composed of full-time soldiers and airmen, is designed to assist emergency first responders during incidents involving chemical, biological, or radiological (CBR) threats.
According to Lieutenant Colonel Joseph DeFee, USA, the 48th CST commander, last month's evaluation was his unit's first "real chance" to prove that it is ready for full accreditation by the Department of Defense. If the 48th CST is certified as a "fully mission capable" CST, it would be the 57th such unit in the nation and the second in Florida. "Other than a real-world response, this is probably the most important exercise we'll have," DeFee said while watching his team members prepare for the evaluation.
The scenario was real enough, he added, to keep the participants on their toes, and also relatively simple: A small airplane was seen flying over Brooksville dispersing a liquid of some type. After people under the flight path started getting sick, the police were able to track the plane to a local airstrip. When the first responders found suspicious chemicals and materials near the plane, they called in the Florida National Guard's 48th CST.
An 'Artificial' Assist for a Real-World Test Using a military C-23 Sherpa to simulate the chemical-laden plane, the evaluation team kept close watch over members of the 48th throughout the day as they were scanning the area for possible CBR agents. Some team members then took samples and tried to determine what toxins may have been spread from the plane. Lead evaluator Ronald Jones, deputy director of Civil Support Readiness Group-East for U.S. Army North, noted that the scenario was kept as realistic as possible to ensure the Guardsmen know their jobs. "The only part that is somewhat artificial," he said, "is that we test their capability to detect chemical and biological and radiological hazards, which you probably would not see a terrorist use all at one time."
The search for all three types of potential hazards, he continued, was "because we wanted to make sure that all of the team's detection gear works, and they [the team members] have the ability to use it." The public "can be assured," he commented, "that the National Guard is prepared."
The 48th CST was created in February 2010, but not all of the team's members are new to the CST concept. Three of its current members – including DeFee – came from its sister unit, the 44th CST based in North Florida; two other members came from CST units in New York and Arizona.
After his unit receives official certification from the Department of Defense, DeFee said, it will be kept on a 24-7 alert for real-world emergencies. It is important to have two CSTs in Florida, he added, both to cut the length of response times to incidents and to provide more well trained specialists for possible missions. "Historically," he noted, "the Guard has been here to protect the citizens of Florida, and those citizens need to know that the Guard is here to respond to any future threats.
"Considering the philosophy of General Titshaw [Air Force Major General Emmett Titshaw, Adjutant General of Florida] of 'Linking our Heritage to our Horizons,'" DeFee summarized, "we will continue that heritage of protection against any threats."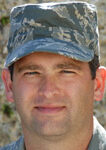 U.S. Air Force Master Sergeant Thomas Kielbasa is a Public Affairs Specialist assigned to the Florida National Guard Public Affairs Office in St. Augustine, Florida. Kielbasa joined the U.S. Army in 1991, serving first in the 82nd Airborne Division and the New York National Guard as a Fire Support Specialist. After earning a Bachelor of Arts degree in Journalism in 1997, he worked as a civilian newspaper reporter. In 2001, he became a full-time Public Affairs Specialist with the Florida National Guard, and served as the editor of the quarterly Florida Guardsman magazine and its companion website, the Florida Guardsman Online. He is a frequent contributor of news photographs to National Guard and Department of Defense publications and websites.