The United States is currently facing historic challenges. Against the backdrop of a global pandemic, the United States is experiencing an historic rise in gun violence and civil unrest. Social issues, such as a dramatic increase in unemployment, a rise in domestic violence, an increase in substance abuse, social isolation, mental health issues, and uncertainty surrounding when the pandemic will end are leading to increased anxiety and frustration. In an era of coronavirus, do not forget that reopening plans need to focus on security, as well as health and safety.
As a concrete example, the State of Virginia has reported a 76% increase in domestic violence cases since the pandemic began. Further, a recent NBC News/Wall Street Journal poll captured the sentiment of the nation, with 80% of respondents saying that things are out of control in the United States.
New Threat With Common Dangers
The nation is currently focused on reopening facilities and continuing the battle against the coronavirus. However, do not lose sight of other dangers, such as active shooter events and attacks. Society is facing extreme dangers as depression and anxiety increase throughout the population. Gun sales have skyrocketed while many are facing mental health issues due to job loss, domestic violence issues, loss of income, solitary lifestyle, and loss of routine and structure. Alarmingly, historical records show that a high rate of attacks occur after a break in routine. In fact, as many as 41% of all school attacks have occurred within one week of returning after a break.
When thinking about safety and security in a post-pandemic era, several significant changes in society since the COVID-19 coronavirus pandemic began need to be accounted for:
A high rate of attacks occur after a break in routine. COVID-19 is the ultimate disruptor for schools, businesses, childcare programs, and houses of worship.
Both gun and ammunition sales have skyrocketed since February 2020.
In June 2020, the Federal Bureau of Investigation (FBI) conducted more than 3.9 million background checks – the highest month on record since the agency began record keeping in 1998. This follows the previous record, which was 3.7 million checks in March 2020.
On 16 March 2020, three days after President Trump declared a national emergency for coronavirus, over 176,000 guns were sold.
After the Minneapolis police station was burned on 28 May 2020, gun sales topped 150,000 per day in early June.
Numerous cities across the country have reduced funding for law enforcement and some have removed law enforcement officials and school resource officers from public school buildings, leaving them largely unprotected in case of attack.
Recognizing and taking into account these new societal trends – along with current events and the overall mood of the country – are vital for developing new coronavirus protection procedures and reopening plans.
Beware of Flashpoints
In addition to the normal confrontations, coronavirus adds new rules and regulations that may cause additional flashpoints. Visitors, parents, or customers may object to or resist wearing masks, adhering to new drop-off protocols at schools or childcare programs, or take issue with newly established health safety guidelines. Unfortunately, this has already transpired in restaurants and grocery stores throughout the country – including a murder in Los Angeles after a dispute over wearing of a mask.
For children, the coronavirus has caused a dramatic rise in the use of online education. With many turning to online education, the occurrences of cyberbullying have also increased. These confrontations can increase in frequency, especially as children are left largely unmonitored by adults to attend remote schooling. The Marjory Stoneman Douglas High School shooting is a painful reminder of how bullying can lead to tragedy.
Now more than ever is the time to remain vigilant. In the battle against the coronavirus, it is important not to forget security while focusing on health and safety. Schools, businesses, childcare programs, and houses of worship should take advantage of the downtime from temporary closures to receive training on these critical topics and ensure security is included as part of all health and safety reopening plans.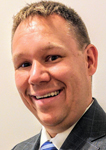 Andrew Roszak, JD, MPA, EMT-P, serves as the executive director for the Institute for Childhood Preparedness and as an advisor for the Domestic Preparedness Journal. He is the author of the Preparing for the Unexpected Series of books, which includes "Preschool Preparedness for an Active Shooter." He has spent over 20 years working on emergency preparedness, response, and recovery issues. He is admitted to the Illinois and District of Columbia Bars and is admitted to the Bar of the U.S. Supreme Court. Find him on Twitter: @AndyRoszak.