The events that unfolded over the course of 2020 and 2021 challenged emergency managers in ways only previously imagined. In the midst of a global pandemic, emergency managers worked through the complexities of a global response while delivering core administrative functions and coordinating the response to countless other threats and hazards. This response tested emergency management capabilities and challenged long-held assumptions about mutual aid systems.
The COVID-19 response, which continues well into 2021, brought with it several key implications and a pathway toward the next generation of emergency management. What is abundantly clear is that the old emergency management system cannot meet the changing needs of today's society.
The Emergency Management Response to COVID-19
For over a year, emergency management professionals supported the ongoing COVID-19 response. Providing essential coordination and support services, agencies repeatedly rose to the occasion and addressed the acute challenges facing their communities. From building hospital surge capacity, testing capability, providing public information, liaising with the private sector, distributing food, to purchasing personal protective equipment (PPE), emergency managers provided the essential framework to facilitate jurisdictional response to COVID-19.
The demands of the pandemic tested the limits of emergency management staff capability. Not only did COVID-19 stretch resources thin but also 2020 and 2021 brought with it an onslaught of additional emergencies and disasters. An overactive hurricane season, major wildfires, flooding, earthquakes, severe weather, civil unrest, political strife, a failed insurrection, and presidential inauguration were just some of the additional disasters that emergency managers faced since the start of the pandemic. All told, the National Oceanographic and Atmospheric Administration reported 22 billion-dollar disasters in 2020 alone. The last 12 months have tested, and in some cases, broken the nationwide emergency management system.
For the first time in history, all 56 states, territories, commonwealths, and the District of Columbia were simultaneously under a state of emergency. Unlike most regional disasters where resources come from un-impacted areas through the Emergency Management Assistance Compact (EMAC), mutual aid through this mechanism was largely unavailable. The supply chain was nonexistent, forcing communities into bidding wars to acquire severely limited commodities critical to the response. Furthermore, emergency operations centers (EOCs) remained activated and staffed for months on end, far beyond the capability of countless agencies with small staffs. As emergency management agencies move beyond 2020 and the first half of 2021, they must embrace transformative change to build a more robust system going forward.
Beyond 2020 – Implications for Emergency Management
Even as the response to the pandemic ends later in 2021 and communities return to some semblance of normalcy, this response has fundamentally changed the nature of emergency management. Moving forward, agencies will need to build systems equipped to meet the changing demographics of communities and changing climate that promises to bring with it more extreme hazards. Four key actions that emergency managers must adopt to their new reality include: breaking the cycle of disaster, building organic consequence management capacity, building the emergency management profession, and building equity in administration and program delivery.
Breaking the Cycle of Disaster – Although emergency management agencies have traditionally focused extensively on response and recovery efforts, agencies are beginning to recognize that they cannot simply respond their way out of disaster vulnerability. The response to COVID, coupled with historic disaster losses in 2020, illustrates the need for agencies to prioritize disaster risk reduction to break the cycle of disaster. Twenty years past the Disaster Mitigation Act of 2000 and five years since the United Nations codified the Sendai Framework for Disaster Risk Reduction, the United States continues to struggle to make progress in stopping disasters through transformative hazard mitigation. The 2018 Disaster Recovery Reform Act and subsequent Building Resilient Infrastructure Communities grant program from the Federal Emergency Management Agency (FEMA) offer some promise by drastically increasing funding for mitigation. Still, however, emergency managers fail to prioritize risk reduction and mitigation. The outcome of 2020 needs to be a moonshot of innovation in mitigation funding to strengthen communities before it is too late.
Building Organic Consequence Management Capacity – The response to COVID also illustrated the fragility of the emergency management system. While many plans were built on the assumption that mutual aid would be readily available from neighboring counties or states, COVID showed the impacts of a true nationwide incident on response actions. Not only did emergency management organizations struggle to find trained staff to sustain EOC operations for months on end, the resources needed to respond to the incident were also in severe short supply. Going forward emergency managers must reach deeper horizontally across stakeholder groups to identify staff with the skills needed for EOC operations. This includes thinking creatively about which agencies have staff with the unique skills needed for a massive community-wide response and entering into agreements. Although some positions have transferable skills, specialty positions, such as logisticians and leadership positions in EOCs will still be an in-house responsibility. However, organizations can focus on building this capacity and expand outward. In addition to personnel, organizations need solid tools to facilitate response. This includes leveraging data, predictive analytics, and artificial intelligence systems to aid decision makers. Emergency managers also need strong resource and information management systems that can accurately track and report on incident status. The complexity of modern disasters requires a commitment to building core support technological systems to aid in response.
Building the Emergency Management Profession – If there is any positive aspect from the 2020-2021 response, it is that emergency management agencies have elevated their profile significantly. In most cases, they have provided the backbone for community response to COVID-19, filling gaps where other agencies were not capable. This is the chance for emergency management agencies to demonstrate, or reinforce, their indispensability to community response to all threats/hazards, including those not typically traditional emergency management issues such as disaster risk reduction, the opioid crisis, and homelessness (all examples of emergency management coordinated issues). Emergency managers must also continue to build the profession. This is accomplished through prioritization of education and professional development, maturation of professional associations, and finding transformative staff to build the profession. This also includes building organizations that are diverse in terms of cultural background, skills sets, and experience.
Building Equity in Administration and Program Delivery – Finally, emergency managers must build equity into organizations and program delivery. The events of 2020 highlighted the inequity of disasters and society more broadly. It is no longer acceptable to "strive" toward equity, rather, the time is now to fully embrace equity in organizations and in the ways that emergency managers deliver services. Initiative such as the Institute of Diversity in Emergency Management are working to bring these issues to the forefront. However, it is the responsibility of all emergency managers to fully embrace equity across agencies and services.
Conclusion
While 2020-2021 has unquestionably been the most challenging period for emergency managers, it also presents an opportunity to emerge as a much stronger profession. Although the response to COVID-19 is still ongoing at the time of this article's publication, the pathway forward for emergency managers is clear. Going forward emergency managers must: (1) prioritize disaster risk reduction, (2) build organic consequence management capacity, (3) build the emergency management profession, and (4) build equity into programs and services.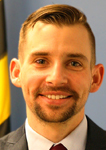 Kyle R. Overly is an accomplished emergency management practitioner and educator. He has held many roles throughout his career, including serving as the Director of Disaster Risk Reduction with the Maryland Department of Emergency Management. He has traveled internationally, providing emergency management services and speaking. With over 10 years of experience, he has responded to major disasters, including Hurricane Irene, Hurricane Sandy, the Baltimore City civil unrest, Ellicott City flash flooding (2016 and 2018), and the COVID-19 global pandemic. He is also an educator, with over 10 years of teaching experience, at the University of Maryland Global Campus. He holds a Doctor of Public Administration from West Chester University and a Master of Science in Fire and Emergency Management Administration from Oklahoma State University. In addition, he is a graduate of the National Emergency Management Executive Academy and the Executive Leaders Program at the Center for Homeland Defense & Security – Naval Postgraduate School.