The See Something, Say Something Act of 2011 was enacted for the purpose of countering "homegrown radicalization and violent Islamist extremism." As an amendment to the Homeland Security Act of 2002, the See Something, Say Something Act offers liability protection for people who, in good faith, report suspicious – and possibly terrorist – activity. Fusion centers, which are a network of information sharing groups, play a key role in securing the homeland and in supporting both the See Something, Say Something Act and the Intelligence Reform and Terrorism Prevention Act of 2004 by providing an outlet for local, state, tribal, and federal officials to communicate and share reports of suspicious activity.
Tourism vs. Terrorism
Managed by the U.S. Department of Justice, the Nationwide Suspicious Activity Reporting (SAR) Initiative (NSI) provides a business process to report, track, and access information on critical infrastructure and key assets – including but not limited to chemical, biological, radiological, nuclear, and explosive (CBRNE) assets – from all levels of law enforcement, while still protecting the privacy as well as civil rights and liberties of those involved. The nationwide SAR Initiative was developed in response to the 9/11 Commission Report, which addressed two main problems with the information sharing process that predated the 11 September 2001 terrorist attacks: (a) finding and asking the right people for pertinent information; and (b) determining who should, and more importantly who is allowed, to receive such information. SAR solves these two problems by making the information available to the right people at the right time so the appropriate action can take place.
In a 23 March 2012 DomPrep Journal interview, Thomas J. O'Reilly, Director of the SAR Initiative, stated that if more suspicious activity had been identified before the attacks on 9/11, "it might have helped us prevent or thwart the issues that occurred that day." SAR helps raise awareness about people and organizations responsible for CBRNE assets and improve training among law enforcement officials. Behavior analytics places the focus on the "what" (terrorism) rather than the "who" (tourism) to spot anomalies.
According to O'Reilly, there are two major areas of challenges for fusion centers today: (a) diversity of programs that have developed in terms of trying to report suspicious activity across various domains; and (b) today's economics of dwindling budgets and personnel. Both of these challenges put a strain on public safety and the ability to assist in critical infrastructure protection.
The THADIAS System
The U.S. Department of Energy's Argonne National Laboratory system helps support the security of radiological and nuclear materials. According to Joe Adduci, GIS (Geographic Information Systems) Analyst/Project Leader at Argonne National Laboratory, because of the Laboratory's GIS capabilities, staff members were approached in 2001 after the 9/11 attacks to determine the existence of a relationship between radiological/nuclear trafficking and traditional drug smuggling routes. This inquiry led to the precursor of the THADIAS system (Radiological Theft and Diversion Incident Analysis System) – high-powered relational databases and GIS system for tracking and mapping radiologic losses, recoveries, criminal prosecutions, etc. The THADIAS system is now capable of identifying spatial and temporal patterns that can be seen at the regional, national, and international levels.
GIS analytics is an integrator and a benefit to the overall fusion center mission. As the NSI advances, online availability of GIS systems will enable decision makers to view datasets in a form that is mobile. This mobility produces technologies that are more interactive, offer live data, and are more readily available in the field.
Better Situational Awareness
In an October 2010 Research Triangle Institute study that looked at all terrorist events – both actual and thwarted – since 9/11, it was determined that more than 80 percent of the initial information was derived from state and/or local law enforcement officials and/or members of the public. Although public safety officers are typically not experts in the area of GIS and CBRNE, they still may have valuable information to share. As such, by collaborating and sharing data from all areas of expertise, fusion centers could paint a clearer picture and provide better situational awareness for CBRNE threats.
By May 2012, NSI plans to release a number of frontline training programs for police officers, private security officers, 911 dispatchers, hotel housekeeping staff, and owners and operators of critical infrastructure. By establishing a robust suspicious activity reporting program, properly identifying various pieces of information, and utilizing analytical tools such as GIS, law enforcement agencies are able to not only better allocate a diminished presence, but also use that presence more aggressively and more effectively to prevent or mitigate future terrorist threats.
Click to listen to the Nationwide Suspicious Activity Reporting (SAR) Initiative (NSI) Roundtable
For additional information on:
The Nationwide Suspicious Activity Reporting (SAR) Initiative, visit http://nsi.ncirc.gov/
The 9/11 Commission Report, visit http://www.9-11commission.gov/report/911Report.pdf
Argonne National Laboratory, visit http://www.anl.gov/
The October 2010 Research Triangle Institute study, titled "Building on clues: Examining successes and failures in detecting U.S. terrorist plots, 1999-2009," visit https://www.rand.org/pubs/external_publications/EP201000179.html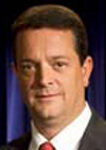 W. Ross Ashley is the Executive Director of the National Fusion Center Association (NFCA). He also serves on the Board of Advisors to numerous corporate clients. He was confirmed by the U.S. Senate in December 2007 and served as Assistant Administrator of the Grant Programs Directorate until August 2009. Previous roles include: Chief Executive Officer of the National Children's Center (NCC), founder of the Templar Corporation, Director of Law Enforcement Technologies at ISX Corporation, and other private-sector positions. He is a retired Air Force Intelligence Officer who served in both the Virginia Air National Guard and the U.S. Air Force Reserve.