Many committees or other coordinating bodies are responsible for planning, managing, or recommending changes to the status quo. For example, certain county agencies lead child-fatality review teams, which analyze the circumstances related to the death of a child as part of an effort to prevent future deaths. Many local agencies have established their own emergency planning committees, which are responsible for numerous tasks ranging from better planning to the collection of data on hazardous material. In addition, many other agencies carry out interagency exercises to build and improve preparedness.
All of these and many similar efforts are not only laudable but also necessary. Unfortunately, many of them begin as just another "unfunded mandate" and can quickly drain the productivity of the participating staff members. Nonetheless, in addition to the more obvious values of the above-stated goals of the multidisciplinary teams involved, there are a number of substantive reasons for participants in such meetings to become deeply involved.
Differing Perspectives & Imperfect Solutions 
A major bonus for any agency participating in multiagency meetings is staff development. When participants share, discuss, and ultimately understand many different points of view, these meetings provide new insights to responders and agency leaders about the thinking processes and planning priorities of other agencies.
Most civil service and crisis management agencies and organizations are similar in at least some respects. However, each agency still sets its own priorities, follows its own way of thinking, and abides by its own core statutes – which dictate not only what members of that agency can and must do but also the boundaries within which they must work. The development and execution of an evacuation plan, for example, may include a requirement for the staging of buses in a nearby parking lot as soon as the appropriate authorities suspect that a specific incident may require evacuation.
That requirement makes perfect sense, of course. But without a transportation agency representative participating, the planning team might be unaware of certain limitations – the maximum allowable on-duty times for bus drivers, for example, which includes the time waiting at a pre-planned staging area.
Working Relationships: Before, Not After 
Advance planning that starts at an emergency operations center or in the office of a senior elected official during an emergency activation is obviously not the best time to meet the leaders of other agencies involved in a specific incident or operation. Doing so, in fact, usually guarantees a rocky or at least unpredictable ride. For that reason, multiagency meetings are a welcome opportunity to become a "real person" to representatives of the other agencies involved.
All too often, when members of different agencies meet, they still view the other participants as simply "uniforms." Even police officers and firefighters are sometimes suspicious of one another. Moreover, both of these front-line responders still, in some instances, discount the urgent need for emergency medical services units – until there is an actual patient in need of immediate medical care, of course. In addition, at least some members of all three of these agencies would probably prefer not to deal with non-responder agencies.
When staff members move beyond agency affiliations and can actually call each other by name, interagency politics usually recede and the work immediately at hand becomes the principal focus. By recognizing that encouraging aspect of human nature, multiagency meetings and projects will not drain staff productivity but instead will develop staff professionalism and improve collective productivity by allowing the members of all agencies involved to better understand one another and to network more effectively in future times of crisis.
The end result should be obvious: If the planning group's original goal is met, a childhood death may be prevented, a hazardous material spill may be averted, and many other beneficial results will make the time invested in periodic meetings more than worthwhile.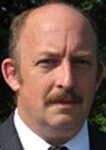 Joseph Cahill is the director of medicolegal investigations for the Massachusetts Office of the Chief Medical Examiner. He previously served as exercise and training coordinator for the Massachusetts Department of Public Health and as emergency planner in the Westchester County (N.Y.) Office of Emergency Management. He also served for five years as citywide advanced life support (ALS) coordinator for the FDNY – Bureau of EMS. Before that, he was the department's Division 6 ALS coordinator, covering the South Bronx and Harlem. He also served on the faculty of the Westchester County Community College's paramedic program and has been a frequent guest lecturer for the U.S. Secret Service, the FDNY EMS Academy, and Montefiore Hospital.