The rehearsal of concept (ROC) drill began with the U.S. Army and gives the participants an opportunity to practice combat mission plans and to put contingency plans into place. The first ROC drill actually used rocks to represent soldiers, vehicles, or units to facilitate their movement in the planning stages. The United States Park Police (USPP) participated in several ROC drills in preparation for the 2013 Presidential Inauguration, where USPP worked integrally with military, law enforcement, fire/emergency medical services, emergency management, and private partners. ROC drills facilitated the operational concept and allowed participants to directly visualize their actions and how they would affect other agencies and organizations.
The National Capital Region ROC drills used a large auditorium to lay out a basketball court-sized map that corresponded to the area of operation (AO) for the 2013 Presidential Inaugural activities. Each agency and organization involved in the operation was required to brief their operations as they related to a scenario presented to an audience of other law enforcement partners, private partners, and command officials responsible for the execution of the event. Those who had operational issues within this zone presented their responses to specific problems. This required area commanders and those in charge of operations to think on their feet and present solutions to the issue at hand.
Exercises for Inaugurations & Celebrations
During preparations for the 2013 Presidential Inauguration, a variety of agencies that had operational missions within the AO, created their own tabletop exercises to conform to issues they expected would confront them in their duties throughout the day. This eventually became burdensome for many agencies that were struggling to deal with their day-to-day operations and continue preparing their personnel for the upcoming mission. The USPP also embraced this strategy to ensure operational soundness.
In an effort to not create a stale environment, the USPP is going to launch a ROC drill in preparation for the 2014 July 4th celebration. This will take personnel out of the meeting room – thus avoiding "death by PowerPoint" – to an actual operational rehearsal of the tasks that need to be accomplished to ensure efficient operations on 4 July 2014. The USPP will begin the operational training by walking the audience through the timeline of the day and highlighting key times and events that need to be addressed. In preparation for the ROC drill on 1 July 2014, the USPP intend to have the Incident Action Plan (IAP) in the hands of their commanders on 27 June 2014, so that they can study their operational responsibilities.
As the ROC drill commences, operational commanders will be called upon to discuss the actions taking place in their AO, including: closing roadways, configuring access points, and securing the area for the EOD (explosive ordnance detection) sweep. As the day progresses, a variety of events occur when each commander will need to be intimately aware of his/her responsibilities. One of the main responsibilities for area commanders will be training the security guards and assisting agencies assigned to them for their duties. Area commanders also will need to be familiar with the location of the first-aid tents, safe-haven locations, and lost and found. This requires area commanders to have more ownership of their duties and ensure that they are familiar with the operational plan.
Empowering Participants
By handling the operational briefing with the ROC drill concept, there will be less confusion about how the plan is to be implemented and carried out. A major component of the message to commanders will be to empower them to get things done as well as to locate and fix the problem. If their solutions make sense, they will be implemented; if they do not work with the best results, then participants will discuss additional options without ramifications.
After walking through the timeline, USPP will inject two past real-world scenarios to ensure that commanders and partners are prepared for incidents that may occur. One of the scenarios that will be presented actually occurred during the last two 4th of July celebrations, and may affect a presidential event that was scheduled to occur adjacent to the secure area. Operational readiness is the key to managing any event, and the ROC drill will give USPP the upper hand when an incident does occur.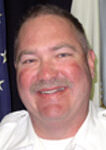 Captain Philip Beck has been with the U.S. Park Police since December of 1988. He has served in many roles to include detective sergeant, SWAT/K9 commander, central station patrol commander, and watch commander. Along with these responsibilities, he has developed and presented a course on active shooter for civilian employees and is a principal instructor for the CONTOMS (Counter Narcotics & Terrorism Operational Medical Support) Tactical Medical Training Program. He revamped the U.S. Park Police policy on mass arrests, now commonly referred to as high-volume arrests, to ensure compliance with the law and a person's ability to exercise their First Amendment rights.