Many states have worked with the concept of establishing EMS (emergency medical services) task forces as a way to answer the glaring problem of insufficient medical staffing during large-scale disasters. Nonetheless, the unanswered question is in many communities is still the same: "How will the system provide enough people to care for the ill or injured?" The grim reality facing many emergency managers is that there is no good answer to this question – in large part because the health care industry has become so competitive and does not carry care providers on the payroll for "just in case" needs. In fact, staffing has become a "just-in-time" commodity in much the way that inventory has, and usually for the same reasons.Many programs have been put forward to attempt to address this issue: the Emergency System for Advance Registration of Volunteer Health Professionals (ESAR-VHP), for example; the medical reserve corps (MCR); and Disaster Medical Assistance Teams (DMATs) – to name just a few. ESAR-VHP is basically a registry of medical professionals who are willing to assist during a disaster; many ESAR-VHP programs provide some training to their registrants. An MRC is a locally organized team of medical professionals and support staff who train and practice as a team; MRC staff can deploy as individuals or as a team, under either local or state control. (The citizen's reserve corps, a similar program, provides staff for non-medical tasks that do not require a highly trained responder such as a paramedic, a firefighter, or a police officer.)A DMAT is a state or regionally organized team of emergency and medical professionals who train, practice, and deploy as a team. DMATs usually deploy under either federal or state control. There are veterinary, search-and-rescue, and mortuary equivalents of the DMAT under the federal National Disaster Medical System program.California Makes Good Use of Wildfire ExperienceA consistent issue of concern to emergency managers is the movement of affected patients to a hospital for treatment. HRSA (Health Resources and Services Administration) grant program deliverables address the issue of a state's ability to meet minimum transportation targets – one of which is the capacity to transport 500 patients per million of population.Many states – e.g., California, Massachusetts, and Pennsylvania – have developed special EMS If a jurisdiction uses its resources to manage a disaster and there are no ambulances available to respond to emergency requests, the community is not being adequately served resources to address the staffing issue. Most of these are made up of EMS professionals who are organized into strike teams or task forces that can be deployed to a region within the state where a disaster requires more resources than the local community can call out and still continue to provide the customary 9-1-1 services.It is important to realize that, if a jurisdiction uses all of its resources to manage a disaster and there are no ambulances available to respond to routine emergency requests, the community is not being adequately served and the emergency-response system has therefore failed to discharge its responsibilities.The California strike teams are typically composed of five paramedic ambulances and one supervisor, and are part of a larger system that integrates medical volunteers from the medical reserve corps, ESAR-VHP, and other sources. Because of its long history in fighting wildfires, California has considerable experience both in inter-jurisdictional cooperation and in the management, deployment, and state-level coordination of resources.Although there are some disasters that could overwhelm even this system, the setting up of a unified management system is still the best way to ensure that the resources available will go further and save the lives of more victims than would be possible without such a system.
________________________
Links for additional informationState-level resource disaster management http://www.emsa.ca.gov/dms2/dmsrspns.aspAmbulance Strike Teams http://www.emsa.ca.gov/dms2/amb_strike_team.aspVolunteering http://www.hrsa.gov/esarvhp/guidelines/guide_2-0.htmhttp://www.medicalreservecorps.gov/HomePagehttp://www.citizencorps.gov/programs/medical.shtmhttp://www.medicalreservecorps.gov/findmrc.asphttp://www.dmat.org/http://www.vmat.org/http://www.dmort.org/ http://www.volunteersolutions.org/mass-service/volunteer/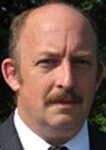 Joseph Cahill is the director of medicolegal investigations for the Massachusetts Office of the Chief Medical Examiner. He previously served as exercise and training coordinator for the Massachusetts Department of Public Health and as emergency planner in the Westchester County (N.Y.) Office of Emergency Management. He also served for five years as citywide advanced life support (ALS) coordinator for the FDNY – Bureau of EMS. Before that, he was the department's Division 6 ALS coordinator, covering the South Bronx and Harlem. He also served on the faculty of the Westchester County Community College's paramedic program and has been a frequent guest lecturer for the U.S. Secret Service, the FDNY EMS Academy, and Montefiore Hospital.