Devastating incidents have occurred as long as humans have been on Earth. However, the way in which people respond to them has changed dramatically with the introduction of modern technology. Cries for help may be hidden in hashtags and geolocation, so filtering social media can be critical for response efforts.
A devastating tornado affects a community and its surrounding areas. While the disaster unfolds, people start sharing information, showing pictures, and streaming videos of the incident on social media. With information rapidly appearing, many posts describe the scene before first responders arrive. The disaster is already the number one nationwide trending topic as response efforts are just getting underway.
The Problem: Identifying Incident-Specific Posts
During a disaster, it is difficult to filter social media and organize the vast information, especially considering that anyone can have a social media account and can post anything at any time, even false or irrelevant information about a disaster. According to a 2014 infographic, people post on social media when they need help and often expect that help to arrive within 60 minutes after the post is sent. As such, filtering the abundant social media and focusing on the location of a post is a necessary process during a disaster.
In order to formulate a common operating picture, emergency managers should use filters to find posts relevant to the incident. Social media posts filtered by hashtags alone are gathered from around the world, but those filtered by location dismiss irrelevant posts that are not incident specific. In order to create a common operating picture and provide accurate situational awareness, social media posts should be filtered by both location and hashtags.
The Solution: Geolocation & Filtering Tools
Some geolocation tools are built into common social media platforms. For example, Facebook, Twitter, and Instagram allow users to activate their mobile location and, once the users post on social media, their location can be viewed. Various social media filtering tools currently exist or are being created to assist in the geolocation process for disaster incidents. These social media management or monitoring tools can be used to filter social media within specific geographic areas and topics by gathering data from users who have activated their mobile location; however, not everyone takes the extra step to post location. Such tools help users to organize and filter data based on hashtags, keywords, and geolocation coordinates. Some platforms require users to research and find coordinates for a location in order to find related social media posts. Other platforms have users click and draw around an area on a map and, as a result, the user can see all the social media posts at the scene of an incident.
Photographs that accompany many social media posts also should be verified. Some tools allow users to search an image to determine where that image has been shared previously. This helps the user to identify whether the image is an original picture of the incident or a false representation. If a photograph has been altered, the image search can help the user locate the original picture and its related content.
Live streaming coverage platforms – such as Periscope and Facebook Live – make video streaming from almost anywhere possible using mobile phones. Emergency management teams can leverage this information to see what is happening live at the scene, which assists in decision making during a disaster. Additionally, this provides first responders with information regarding the location of individuals in relation to the disaster area.
Understanding how to filter by location and, at the same time, filter by hashtags and keywords assists in creating a common operating picture. Using tools to verify images found in posts increases the quality of situational awareness. Collecting live streaming information provides emergency management staff with real-time coverage that may not be highlighted by traditional media. Social media outlets have become essential tools for emergency personnel and can be used in many ways to enhance the response to a disaster area.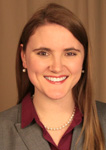 Emily Allen is the digital engagement coordinator at the Maryland Emergency Management Agency (MEMA). She creates and updates social media content, graphic, audio, and visual designs, and develops outreach campaigns found in MEMA's social media accounts. She also produces and edits videos for the agency. Before joining MEMA, she served as communication specialist for the City of Platteville, Wisconsin. She also worked for the National Basketball Association (NBA) and the Women's National Basketball Association (WNBA) as social media producer/broadcasting coordinator for the Minnesota Timberwolves and Lynx in Minneapolis, Minnesota. She graduated in 2010 from Loras College with a degree in media studies.