After a disaster, stories often emerge about companies and organizations that provided resources and services to aid in the response efforts. Sometimes these are prearranged formal agreements, but often they emerge more spontaneously as the need arises within communities. It, of course, is not possible to plan for every potential threat or scenario. However, there are many actions that could be taken in advance of an emergency to build resilience into any ensuing scenario.
Identifying obtainable resources, building relationships with potential partners, and providing interactive opportunities such as meetings and tabletop exercises are just a few examples. Research, healthcare threats, sheltering, and response surge are four key topics addressed in this issue requiring public-private collaboration:
Collaboration is not a step in the disaster mitigation-preparedness-response-recovery spectrum. Rather, it is a process that must be woven into and nurtured at each phase and must start now.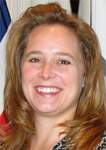 Catherine L. Feinman, M.A., joined Domestic Preparedness in January 2010. She has more than 30 years of publishing experience and currently serves as Editor of the Domestic Preparedness Journal, www.DomesticPreparedness.com, and the DPJ Weekly Brief, and works with writers and other contributors to build and create new content that is relevant to the emergency preparedness, response, and recovery communities. She received a bachelor's degree in international business from University of Maryland, College Park, and a master's degree in emergency and disaster management from American Military University.