During the second week of October 2017, the DomPrep Journal hosted and Draeger sponsored a series of presentations and discussions, which included most of the major federal agencies engaged in freight rail safety and security, as well as the American Association of Railroads. To add to that discussion, several states have made significant contributions to freight rail safety. Three major state and local emergency management agencies that have made these major strides in rail safety and security are described here.
The states of Minnesota, Washington, and California have developed programs and taken actions to enhance public safety and emergency management for the freight rail infrastructure, integral to their communities and surrounding areas.
Minnesota Department of Public Safety's Homeland Security & Emergency Management Division
Under Governor Mark Dayton, Tenzin Dolkar serves as Minnesota's state freight rail director, leading the state's efforts to enhance railway safety and to ensure safe and efficient rail operations through: infrastructure improvements; first responder training and support; monitoring of rail movements; and coordination with community stakeholders and railroad companies. To help with funding for emergency response and preparedness training, Minnesota Department of Public Safety's Homeland Security and Emergency Management (HSEM) Division has a Railroad and Pipeline Safety Account for interested communities.
Rail incidents, involving crude oil, that have occurred in nearby states have raised additional safety concerns in Minnesota. To address these concerns, Dayton signed legislation in July 2014 requiring the Minnesota Department of Public Safety to provide statewide oil transportation awareness training to local jurisdictions. As of 12 October 2017, HSEM's efforts include the following:
6,201 first responders from 210 departments and agencies trained to better understand and protect against hazards related to the transport of oil and other hazardous substances (with 296 sessions held and more scheduled for the future);
Three tabletop exercises related to oil transportation, with participants receiving jurisdictional maps highlighting key community assets located within a half mile of the rail line;
Advanced training related to crude oil response for all state Chemical Assessment and Emergency Response Teams;
1,533 first responders from 66 departments and agencies have completed the higher operational training level, with 86 sessions conducted and five approved training providers; and
The formation of an oil training advisory group comprised of the Minnesota Department of Public Safety, Minnesota Pollution Control Agency, and Minnesota Board of Firefighter Training and Education.
HSEM completed its report outlining the state's response capabilities for an oil transportation incident, which includes emergency preparedness, first responder training, and best practice recommendations. Other legislation protects communities through which railways carry crude oil and other hazardous materials by promoting: increased oversight of railroad companies; more railway inspection requirements; and better emergency response training and preparedness across the state.
The Department of Public Safety's HSEM is actively involved in many activities to improve the safety and security of freight rail movement. HSEM works with railroad and pipeline companies to develop safety protocols and facilitate public-private sector coordination that enhances an understanding of oil and other hazardous substances. This department also assists local governments as they incorporate emergency response information into their emergency operations plans. These efforts include:
Collaborating with local emergency managers and responders to understand the dangers of oil and other hazardous substances traveling by rail through their jurisdictions; and
Partnering with the Minnesota Department of Transportation, Minnesota Pollution Control Agency, and railroads to integrate rail safety legislation.
King County, Washington, Emergency Management Office
King County is highly regarded for its overall emergency preparedness efforts and serves as one of the largest transportation hubs – with major railroad operations – in the Pacific Northwest. Freight rail safety and emergency management issues in the region include exponential growth in the number of trains carrying highly flammable crude oil and coal, which increases the risk of transportation accidents and makes the area vulnerable to various types of transportation emergencies.
To help prepare its community for potential rail threats, the King County website page on transportation accidents provides public information on rail hazards, preparedness and response actions for transportation incidents, and additional resources. Its website shares five slide presentations on freight rail safety and emergency management, which are ready for public outreach and technical training.
California Governor's Office of Emergency Services (CalOES)
In a statewide gap analysis, CalOES found that several local municipalities had created specialized hazardous material response units (hazmat teams), which are responsible for protecting their communities, public resources, the environment, and property when an incident involving hazardous materials occurs. These teams are mostly located in densely populated metropolitan areas throughout the state and vary in their capabilities. To facilitate possible expansion and ensure regional mutual aid response when needed, CalOES integrated these hazmat teams into its Standardized Emergency Management System (SEMS), National Incident Management System (NIMS), and Statewide Fire, Rescue, and Hazardous Materials Mutual Aid Plan. In addition, CalOES created a HazMat Team Typing Program to better identify and coordinate these specialized resources for emergency response.
Since 2004, the Fire and Rescue Branch of CalOES and FIRESCOPE (Firefighting Resources of California Organized for Potential Emergencies) have been certifying the state's hazmat team response competency and ensuring coordination of hazmat response teams with the State Master Mutual Aid System, in accordance with accepted FIRESCOPE mutual aid and SEMS response standards. California's system provides a coordinated and reliable mechanism for local, regional, and state authorities to leverage when additional resources, specialized capabilities, and multijurisdictional responses are needed following a major hazmat incident. Four significant objectives drive this system:
Requirements for standardized and certified training;
Development and sustainment of a standardized Hazardous Materials Equipment List (based on performance typing standard);
Development of the HazMat Team Typing concept (based on intervention/response capability); and
On-site inspections of hazmat teams for compliance, certification, and standardization.
As of March 2015, CalOES had certified 60 hazmat teams that voluntarily entered the HazMat Team Typing Program. However, gap analysis reflects that qualified hazmat teams throughout rural California are still lacking. To address this gap, CalOES strives to enhance its emergency hazmat response capabilities, which includes response times, equipment, new and refresher responder training, and additional resources. Adding to the challenge in California, around 32% of its 56,000 firefighters are assigned for sustainment of critical hazmat response and recovery capabilities and resources to ensure rural rail safety.
States and local governments contribute significantly to freight rail safety and work with federal agencies, particularly US DOT in the Operation Lifesaver Program and share best practices with each other and programs for each of their surrounding communities.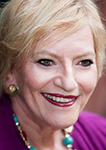 Kay Goss is the President of World Disaster Management, LLC. Her emergency management work began 40 years ago, as senior assistant to two state governors coordinating fire service, emergency management, emergency medical services, public safety, and law enforcement for 12 years. She then served as the Associate Federal Emergency Management Agency (FEMA) Director for National Preparedness, Training, Higher Education, Exercises, and International Partnerships (presidential appointee, U.S. Senate confirmed unanimously). She was a private sector government contractor for 12 years, at the Texas firm, Electronic Data Systems (EDS) as senior emergency manager and homeland security advisor and SRA International's director of emergency management services. She currently serves as a nonprofit leader on the Board of Advisors for DRONERESPONDERS International and for the Institute for Diversity and Inclusion in Emergency Management, and as graduate professor of Emergency Management at University of Nevada at Las Vegas for 16 years, İstanbul Technical University for 12 years, the MPA Programs Metropolitan College of New York for five years, and George Mason University. She has been a Certified Emergency Manager (CEM) for 25 years and a Featured IAEM CEM Mentor for five years, and Chair of the Training and Education Committee for six years, 2004-2010. She is also on the Advisory Board for Domestic Preparedness.