The Homeland Security Act of 2002 created the Department of Homeland Security (DHS) to safeguard the United States against terrorism. The department brought together 22 different federal agencies, each with a role to: prevent terrorism and enhance security, especially from a chemical, biological, radiological, nuclear, or high-yield explosive (CBRNE) attack; manage borders; administer immigration laws; secure cyberspace; and ensure disaster resilience. That is just the federal part of the equation. The first DHS Secretary, Governor Thomas Ridge, envisioned an enterprise where state, local, tribal, and territorial governments were also an integral part of that mission. What is not clearly stated is the role that nongovernmental organizations play. This would include industry, think tanks, and media.
The Preparedness Leadership Council (PLC) is one such organization that hosts roundtable discussions on topics of key interest to homeland security professionals from all disciplines. In October 2018, it held a roundtable with various homeland security experts, including Dr. Robert Kadlec, who is the current Assistant Secretary for Preparedness and Response (ASPR) at the U.S. Department of Health & Human Services (HHS). The discussion focused on implementing and operationalizing biodefense based on the new National Biodefense Strategy. With the intent to spur new ideas and promote collaboration between the public and private sectors, the PLC regularly brings together state, local, territorial, and tribal entities, practitioners, scientists, educators, and industry to address homeland security topics. 
The European CBRNE Summit is one of many organized conferences around the world that focus on CBRNE threats. At the 2019 event, much discussion was devoted to two highly publicized CBRNE attacks: the 2018 Salisbury nerve agent attack and the 2017 Manchester concert arena bombing. Infragard's EMP SIG is an association that brings together public and private stakeholders with a special interest in promoting resilience with regard to natural and human-caused threats to the nation's critical infrastructure. A new electromagnetic pulse (EMP) executive order addresses community resilience and microgrids, which is of significant importance to members of groups like the EMP SIG.
Then, there are organizations that promote leadership during all emergencies and disasters. Organizations like the National Preparedness Leadership Initiative (NPLI) at Harvard University help to educate people on how to lead throughout the most difficult situations. This includes knowing how to lead the public as force multipliers.
This issue of the DomPrep Journal shares the wisdom of just a few leading experts on preparing for and responding to threats of national significance. Browse the website at DomesticPreparedness.com for more articles, reports, and podcasts from these and other experts on national security threats and how to address them.
New content from other experts is always welcome. Send ideas and submissions to cfeinman@domprep.com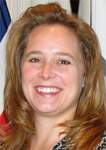 Catherine L. Feinman, M.A., joined Domestic Preparedness in January 2010. She has more than 30 years of publishing experience and currently serves as Editor of the Domestic Preparedness Journal, www.DomesticPreparedness.com, and the DPJ Weekly Brief, and works with writers and other contributors to build and create new content that is relevant to the emergency preparedness, response, and recovery communities. She received a bachelor's degree in international business from University of Maryland, College Park, and a master's degree in emergency and disaster management from American Military University.