In 1966, Gene Roddenberry introduced the world to Captain James T. Kirk and the Federation Starship U.S.S. Enterprise. Imagine standing on the bridge of the Enterprise with futuristic communication devices, computerized control panels, and real-time video chats with other life forms. From the bridge, Capt. Kirk could monitor and assist with any disaster that endangered the Enterprise or any other non-hostile ships and planets.
Much like the bridge of the Enterprise, the command room of an emergency operations center (EOC) is where major decision makers meet. The chairs and workstations are configured for efficiency, and all are within clear view of a large information display screen. This layout is critical for maximum productivity. The basic design criteria for an effective EOC include flexibility, sustainability, security, survivability, and interoperability.
The Physical Layout of an EOC 
When designing an EOC, every little detail makes a difference. Arranged properly, the correct furnishings will facilitate maneuverability and communication within the EOC. A sufficient number of phones, computers, and other systems enable responders to handle a large influx of calls and requests during a disaster situation. Carpeted floors and angled glass viewing walls can reduce noise levels. The right building in the right place can not only withstand the elements but also remain operational both during and after a disaster.
On the other hand, improper design or inadequate information or process flows will hinder the proper functioning of an EOC. The use of carefully integrated electrical systems – e.g., computers, networks, audio, video, displays, and digital clocks – increases productivity and ensures that everyone is "on the same page." The centralized display system – i.e., video walls, rear and/or front projection, as well as individual monitors/televisions/flat panels – in the command room provides a known location where all of this information can be viewed and monitored.
These same displays provide EOC staff with the most current audio, video, and data available from inside as well as outside the facility. When a decision is made on the type of display screen, more expensive does not necessarily mean better. The most cost-effective option, experience has shown, is a front projection system using an existing wall that has been smoothed and painted — and where the images can be sized and moved as needed. But another detail to keep in mind is that, because of possible interference with the display, fluorescent lighting should not be used in command rooms equipped with projection display systems.
The critical information displayed on the screen is watched closely by the EOC decision makers, who use it to make life-saving decisions. Primarily for that reason, the facility and information transfer both must be adequately secured. To ensure the safety of the staff and the security of data, access to the facility itself should be restricted to authorized personnel only. Surveillance equipment also should be installed. A media briefing center or public-safety "answering point" outside the secure area can be provided for EOC managers, however, to provide the media, and the public, with status updates and warnings before, during, and after any significant event.
In addition to the many interior details mentioned above, there are also certain exterior details that need attention. One example: EOC facilities should be constructed with survivable shelter capabilities in mind. Power, backup power, and air filtration systems are other factors that need to be considered. The power supply should be able to handle the heating and air conditioning systems, lights, computers, phones, and other electronics systems and equipment both continuously and simultaneously throughout an event. Protection from carbon dioxide and other chemical infiltration also is needed, and can be provided by a full air-exchange or an over-pressure system.
Building materials and the selection of locations are also important factors involved in ensuring resiliency both during and after a flood, tornado, hurricane, earthquake, or other major event or incident. For example, an EOC located in a floodplain may have to be raised, or moved to higher ground, whereas one located in a tornado-prone area may have to be underground.
The Virtual EOC 
Although it is still not possible for "Scotty" to "beam us up," the computer age has opened the door for "beaming" information around the world. Before computers and cell phones became commonplace, EOC staff used landline telephones and portable radios as the primary means of sending and receiving critical information. As technology advanced, Crisis Information Management Software (CIMS) entered the game. Using CIMS systems, EOCs can now communicate and share information instantaneously with local and government officials.
CIMS streamlined the integration, organization, and tracking of essential data. Having instant access to critical asset links reduces response times, and improved public information sharing capabilities help maintain rapport with the public.
However, there are some pitfalls to avoid when choosing a CIMS solution – some of which fail because they are not user-friendly and/or require extensive training. Other CIMS systems have limited features or availability, and some are not "customizable" or scalable. These and other problems often create information bottlenecks and cause delays in response time. To avoid these problems, a system that offers a self-validating information flow eliminates the bottlenecks while at the same time providing instant availability and unlimited sharing.
EOCs of the Future 
As technology and communication equipment continue to change and improve, it is important for EOC managers to reevaluate both the design and technological capabilities of their facilities. Documenting an activation process, establishing procedures for each position, and performing regular drills and exercises are among the most effective ways to smooth the process. Some EOCs are equipped with the appropriate technology, but still report that various "things" are "just not working together very well." Ensuring that information is moving efficiently between first responders and decision makers translates directly into more saved lives and/or fewer injuries.
Although there are certain general guidelines that should be followed in designing an EOC, it is important to evaluate each one based on the specific location's individual needs. Less than two weeks ago – more specifically, on 30 November 2010 – President Obama declared December as "Critical Infrastructure Protection (CIP) Month." EOCs play a key role in CIP because their information-sharing capacity and response capabilities contribute significantly to the resiliency of local utilities and businesses. However, in order to do so, EOCs must be capable of remaining operational throughout a disaster.
In September 2005, an EOC located near Lake Charles, Louisiana, suffered no damage to the structure itself or to its EOC systems. It remained continuously activated even though the eye of Hurricane Rita passed over it. However, not all EOCs are equally prepared for disasters. This month is a very good time, therefore, for EOC managers to reevaluate their own EOCs to see if their design and technologies are fully ready for disasters in 2011 and thereafter.
_______________
For additional information: On the presidential declaration of CIP Month, click here.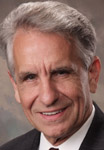 After a 21-year Air Force career concluding with management of the Strategic Air Command's "Underground" Command Center near Omaha, Nebraska, G. James (Jim) Fulton became emergency operations manager at the Savannah River Site. In that post he developed a national reputation for cost-effective, cutting-edge initiatives in emergency design. Since co-founding ESi, he has specialized in EOC systems integration and facility design, and also developed the company's marketing strategy. He currently heads the company's Business Development division and can often be found leading the ESi team at conference and convention venues throughout the United States.