Dear DomPrep Journal Readers:
Season's Greetings and the best to you in the New Year.
Reflecting on this year, 2005 certainly will end very differently from how it began.
Remembering this past January, the nation observed the second inauguration of President George W. Bush. In his Address he stated, "Government has great responsibilities for public safety and public health." A couple of weeks later, in his State of the Union Address, the President elaborated on that commitment and cited first responders and defending against chemical and biological attack directly. I was comforted to know that the huge task of organizing the Department of Homeland Security would go forward, without interruption, logically and expeditiously. Also, I believed that the process of preparedness procurement, risk assessment, and grant funding would mature to meet the real needs of local, state, federal and national professionals without political interference. Furthermore, I believed that the adoption of the National Response Plan and the acceptance of National Incident Management System would provide preparedness professionals with a defined path for executing a deliberate response to horrific events.
Mid-year when the awful 7/7 attacks hit London, I also assumed all civilized people, worldwide, would join the good fight, knowing terrorists could strike their homeland as easily as they hit Madrid, Jakarta, and New York.
Finally, I was convinced that a simple "fix" of the old twentieth century intelligence system, built to deal with cold war requirements, would bring authorities closer to catching the bad guys at home, in the port, on the border, or overseas–before they do harm.
It was that simple.
Then Katrina happened and I asked, "What was I thinking?"
The hurricane was not a secret. It did not slip in undetected as a terrorist would. We saw it coming and knew when the monster would hit, where it would hit, and how strong it would be. In spite of the best possible intelligence, the "Other Gulf War" was waged on home soil with devastating consequence, killing thousands, displacing a million and ultimately destroying a major city. Carefully crafted plans and alphabet-soup agencies fell seriously short of expectations.
While many heroes ultimately sorted out the mess on the ground, from the sea, and in the air, the rest of us wondered, "Are we really prepared?" The term All Hazards was a just a buzzword that was not very well understood, until Katrina taught us that we must.
There is so much more to do!
DomPrep Journal, Delivered Every Other Wednesday 26 Times A Year
Launched January 12, 2005, TIPS, now DomPrep Journal, published approximately 150 articles. Ten Channel Masters, each an expert in their respective field, offered solutions, observations and tactical information, all designed to help you, the reader, do your job better.
Planning for the New Year has been rigorous. Together with DPJ's Editor, Jim Hessman, and Conference Director, John Morton, we are developing themes for the 2006 editorial calendar, assigning writing assignments, and expanding the team (more on this later.) While reviewing 2005, I found it fascinating that many articles are even more relevant now in retrospect than when originally published.
I encourage you to revisit past issues. Here are a few articles that I recommend.
John Morton – Audio Interview – Adm. James Loy, Acting Secretary DHS on the National Response Plan
Neil Livingstone – GlobalOptions – Facilities Management in the Age of Terrorism
Michael Sohmer – Commentary – After the Storm: A Flood of Compassion Healing the Wounded, in the City That Care Forgot
John Morton – Audio Interview – Marsha J. Evans, American Red Cross, Purposes planning, community preparedness training and mass-care support in local response planning
Ashley Moore – Standards – First-Responder Accreditation: The Pros and Cons
Rob Schnepp – Fire HAZMAT – NCRP 138: Reliable Guidance for Radiation Emergencies
Bob Fitton – Military Support – Providing Defense Support to Civil Authorities
Jerry Mothershead – Commentary – Pandemic Influenza: A Catastrophe in Waiting?
Joe Cahill – EMS – Materials Distribution in a Public Health Crisis
Laurie Thomas – Maritime Security – Piracy 2005: A New and Major Terrorism Concern
Rob Schnepp – Fire HAZMAT – Workloads and Respiratory Rates: The Key Factors In Respiratory Protection
Jay Kehoe – Law Enforcement – Automated License Plate Recognition Systems (ALPR) and How They Grew
Jim Hessman, Editor-in-Chief – A Score Card – and an Agenda! 9-11 Commission releases a grim report: Consensus Flunking Higher
Thank you for Supporting DomPrep Journal
DPJ was forged from the merger of DomesticPreparedness.com (alias, DomPrep.com) the First Responder Network, and Total Integrated Preparedness Solutions (T.I.P.S.) The mission was to better integrate preparedness professionals. Each article is developed to provide you with relevant solutions that help formulate plans and execute jobs better.
Delivered in PDF, html (Online Edition) and print (Expanded Print Edition) our audience gladly accepted the concept of reading relevant articles written by preparedness practitioners instead of journalists. The audience is first responders, emergency managers, medical, public health, mayors, governors, military, borders, ports, non-governmental organizations, and federal organizations, plus the private sector responsible for the nation's critical infrastructure. Throughout the year, the Online Edition circulation grew from 3,000 in January to slightly less than 10,000 today. These numbers are readers, not recipients.
We are very happy to inform you that we will be adding many new faces to the masthead. The names will not be announced for a couple of weeks, however, you can expect timely articles, relevant solutions and expanded coverage in the following areas:
Fire HAZMAT, 2 additional writers being added
Hospital Administration
Military Medicine
Public Health
Transportation Analysis
Coast Guard
Safety Act
Grants and Funding Strategies
Federal Law Enforcement
Local Law Enforcement
The entire DomPrep Journal team is proud to be able to serve you, our readers– the protectors and responders of our country. Please feel free to submit your ideas, recommendations and suggestions on how we can do our jobs better at DPJ.
2006 will be a busy year for us all, as we have much to learn and do.
May you have a safe, healthy, and prosperous New Year,
Martin (Marty) Masiuk Publisher, DomPrep Journal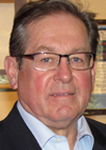 Martin (Marty) Masiuk is president and founder of International Media Representatives Inc. (IMR Group Inc.), which was established in 1986 as an American-based media representation firm for overseas, aerospace, and defense publications. In 1998, under the IMR Group, he established DomesticPreparedness.com, which has evolved into a highly trusted, and important information service for the multi-disclipline, multi-jurisdiction preparedness community. In 2014, he transitioned the DomPrep40 into the Preparedness Leadership Council to lessen the burden on and increase the effectiveness of operational preparedness professionals and help policy professionals make better-informed decisions. Prior to IMR Group, he served as an account representative for McGraw Hill's Business Week and Aviation Week & Space Technology publications.