Chapter 16
The Barker Family story continues. Click here to read Chapter 15.
The More Things Change
Much has changed in the times since the assorted arrests and prosecutions of the Barker Family members and their associates. The primary Barker Family residence on Amelia Street in suburban West Palm Beach has been destroyed along with the other houses on the dead-end street. The entire street has become a noise abatement area for the Palm Beach International Airport with open grass and trees. The short asphalt driveway entrance from the street is all that remains from the much surveilled and storied property.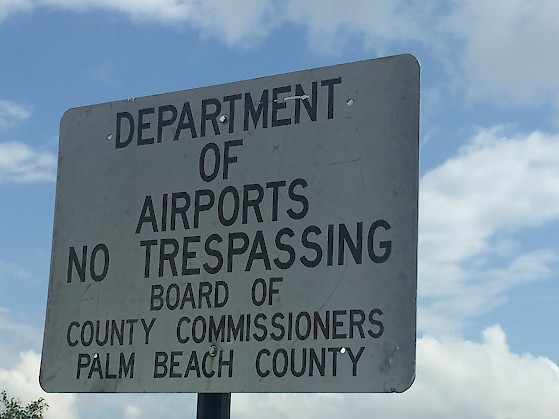 The rental house on Rustic Road appears abandoned, but looks quite the same as it did during the 1984 shooting death. Due to its location and seriously overgrown foliage, it would still be the perfect place to store contraband and hide from prying eyes.
The rental residence on Ocean Inlet Drive in Boynton Beach has been torn down and a large and impressive "McMansion" residence and new dock have taken its place on the transitioning street. A few of the original single-story residences from the 1960s remain, many likely pending future sale for the next knock down. Canal access so close to the Boynton Inlet shall always be valuable for the recreational boater and others with different interests.
The Sailfish Marina Resort continues to be a popular destination for food, drinks, and dock services. It long ago stopped being a U.S. Customs Service (USCS) private vessel reporting station with policy changes years before the division of the proud agency. The U.S. Coast Guard (USCG) station moved to a much better location just north of Peanut Island and Palm Beach Inlet next to the U.S. Border Patrol (USBP) station in Riviera Beach. The Port of Palm Beach remains a busy port of entry.
The Gun Club Café has not greatly changed since the 1990s, still providing home style cooking and a popular meeting place for local residences and law enforcement from the sheriff's office headquarters right down the street. That has not changed and hopefully never will.
The Boynton ramps continue to be popular due to their direct and swift access to the inlet and ocean. The park, ramps, and parking lot have not really changed in decades. They are still perfectly placed for the recreational boater, fisherman, and smuggler alike.
Even though the Towns of Lantana and Hypoluxo have most definitely changed and grown with the addition of condominiums and other large residences on the Intracoastal Waterway, many of the same boat marinas and local bars remain that were popular with the Barker Family and other smuggling groups.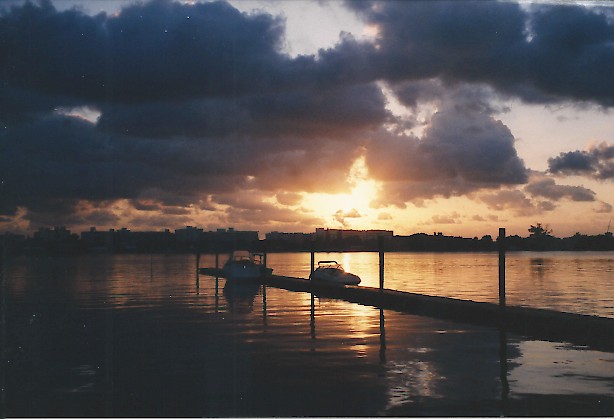 The Old Key Lime House has definitely expanded over the years, but the old inside bar looks about the same as when it was a frequent hangout for maritime smugglers and local sages. It claims to be Florida's oldest waterfront restaurant since 1889. You would swear some of the same locals from the old days are still leaning on the bar. Sitting at the bar today with a cold beer brings back many fond memories for both sides of the law.
The Barker Family Today
The Barker Family members, like many of their criminal associates from this story, have passed on from this world:
Angela Sizemore was murdered in Georgia in 1994.
Cecil Barker died in West Palm Beach on July 3, 1995.
Ronald Barker died in West Palm Beach on April 24, 2019.
Richard Barker's statements from his 2003 newspaper interview at times sounded just like the lyrics from Jimmy Buffett's popular song A Pirate Looks at Forty. As an old school smuggler, he definitely lived that memorable tune. The 1974 song, written in the south Florida mecca of Key West, sounds like it was written specifically for him.
I've done a bit of smuggling, I've run my share of grass
I made enough money to buy Miami, but I pissed it away so fast
Never meant to last, never meant to last
According to the Federal Bureau of Prisons online inmate finder, Richard Barker (Register Number: 04906-018) was identified in their records as deceased on February 10, 2019. It was now the end of a family tradition, but what a story it was of old school Florida smuggling along the way.
The Players
Family
Orrin Cecil Barker – father
Ronald Cecil Barker – son
Richard Bennett Barker – son
Angela Dee Sizemore – wife of Richard Barker
Associates
Richard Patrick Ankiel
Joseph Arnett
Philip Ross Carter
Benny King Darby
Clement J. DeMatto
Vance C. Dyar
Robert G. Eby
Lee Andrew Fennell
Robert David Fleming
Robert Lee Geans
Billy W. Gray
Dale Jackson
Phillip P. Kennedy
|Vernon Lockhardt
John Joseph Longo
James Martin
Neil Pagels
Neal Perks
Franklin M. Phillips
Mark Streeter
Dutch Robbins
Cindy L. Rohn
Roger Lee Wright
Others
Melba Till Allen
Jack Arlington Agnew
Kenneth J. Burnstine
Dennis C Gostomski
Marcus Ray Johnson
Perry G. McCann
Michael Miller
Joseph F. Nichols
David Allen Pandorf
Peter S. Penrose
Claude Avon Pinder
Lanny Basil Pinder
Marmon Pinder
Milton Keith Pinder
Martin Bert Raulins
Austin Roberts
Michael Roberts
Michael Ray Roberts
Charles Bernard Roche
Robin Smith
James E. Stevens
Albert Surano Urkina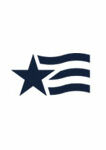 Robert C. Hutchinson was a former police chief and deputy special agent in charge with the U.S. Department of Homeland Security (DHS), Homeland Security Investigations in Miami, Florida. He retired in 2016 after more than 28 years as a special agent with DHS and the legacy U.S. Customs Service. He was previously the deputy director of the agency's national emergency preparedness division and assistant director for its national firearms and tactical training division. His numerous writings and presentations often address the critical need for cooperation, coordination, and collaboration between public health, emergency management, and law enforcement, especially in the area of pandemic preparedness. He received his graduate degrees at the University of Delaware in public administration and Naval Postgraduate School in homeland security studies. He is a long-time contributor to Domestic Preparedness and serves on the Advisory Board.