News agencies often use the term "unprecedented" when referring to COVID-19 and other recent disasters and events. Unprecedented refers to something that was not known or experienced before. However, it is often used synonymously with the word "unexpected." Of course, COVID-19 did not exist before 2019, Hurricane Sandy did not exist before 2012, the U.S. was not attacked by terrorists on the scale of 9/11 before 2001, and so on.
Yes, each of these disasters were firsts in different ways, but the word unprecedented seems to negate the ongoing efforts of all the emergency preparedness professionals who work tirelessly to predict and prepare for these types of events. Yes, the exact where and when these incidents would occur were unknown, but experts did warn that they were inevitable.
Gaps in planning efforts have led to failures in response, but it is not too late to make corrective actions now. For the COVID-19 response, fewer lives will be lost if the healthcare industry uses some caution in its recruiting process and reconsideration of other groups like home health care workers that could serve as force multipliers or military personnel for law enforcement efforts.
The current pandemic has certainly exposed the nation's lack of preparedness. However, through all the uncertainties, public health experts knew and have warned for years that a pandemic was coming and that the nation was unprepared for it. With so much foreshadowing, unprecedented does not seem to be the right word to describe this disaster. But the past is the past, and the future still has many uncertainties. Among these uncertainties are inventions that will be spurred to bridge the current response gaps.
As with all large disasters, there is a new (yet recurring) call to action for communities to build resilience so that the nation as a whole will be more prepared to face the next big disaster – one that will likely be called unprecedented, but once again is anticipated by many knowledgeable emergency preparedness professionals. Will the nation make the same mistakes again, or will we finally learn the lessons of the past, incorporate best practices, and collectively plan for the worst while never giving up hope for the best?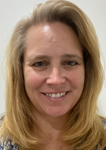 Catherine L. Feinman, M.A., joined Domestic Preparedness in January 2010. She has more than 30 years of publishing experience and currently serves as editor of the Domestic Preparedness Journal, DomesticPreparedness.com, and the DPJ Weekly Brief, and works with writers and other contributors to build and create new content that is relevant to the emergency preparedness, response, and recovery communities. She received a bachelor's degree in international business from the University of Maryland, College Park, and a master's degree in emergency and disaster management from American Military University.