This is the sixth installment in a series of ten articles about the Discovery Channel Series The Colony [airing Tuesdays at 10PM ET/PT], that follows the lives of ten volunteers living in a simulated post-catastrophic environment.
_______________
In last night's episode, the volunteers are rocked by the disappearance of a treasured member during a search-party mission. The loss spurs them to build a collection of communication devices in hopes that their missing member is somewhere out there … listening.
Death and destruction are an unfortunate fact of disasters. The 11 September 2001 terrorist attacks left 2,981 dead in New York City, Washington, D.C., and Pennsylvania.
The remains of 1,520 of those victims have beenentified, mostly by DNA. Another 1,230 were confirmed dead by court orders after families provided proof that the victims were in the towers or on one of the hijacked jets. But no remains have beenentified, or proof given that they were at the scene, for the others. Officials said they will remain listed on the death toll until definitive proof is provided one way or the other.
Pinning down an accurate death toll after a disaster is a recurring problem. As terrible as the 9/11 attacks were, the dead and missing totals were much lower than those caused by some other historical disasters – the following, for example:
January 23, 1556 – Shaanxi (Shensi) Province, China: The most deadly earthquake in history left an estimated 830,000 killed, and hundreds of thousands of others missing.
September 8, 1900 – Galveston, Texas: An estimated 6,000 persons died, and 2,000 were missing, in the aftermath of a major hurricane and tidal surge; the "Galveston Hurricane" is considered the deadliest in U.S. history.
November 13, 1970 – East Pakistan: Some 200,000 were killed by a cyclone-driven tidal wave from the Bay of Bengal; over 100,000 others missing.
August 16-17, 1976 – Mindanao, Philippines: An earthquake followed by an 18-foot tidal wave swamped the islands of Mindanao, Sulu, Basilan, and Tawi Tawi, leaving some 8,000 dead or missing and 150,000 others homeless.
September 30, 1993 – India: Up to 22,000 people were killed in 36 villages destroyed after a series of powerful earthquakes that rocked western and southern India. The first of the five tremors measured 6.4 magnitude. The epicenter was in the region where the states of Maharashtra, Andhra Pradesh, and Karnataka meet near Latur. Two weeks after the earthquake the number of bodies recovered was just under 10,000, and officials said the true death toll may never be known because of the lack of physical remains.
Hundreds if not thousands more such incidents could be added to this list, which does not include the hundreds of millions left dead in the 19th and 20th centuries because of war, famine, and/or disease. The above list, though, highlights the fact that during and after catastrophic disasters numerous deaths are inevitable, but the total is difficult to calculate because so many people are simply reported as missing. For those surviving families, friends, and co-workers, the grief felt over the death of a loved one can strike a devastating blow. Those who are simply "missing," though, represent uncertainty, possible (but not confirmed) loss, and devastating grief that may linger for a lifetime – providing no closure for the survivors.
In New York City, in the wake of the tragic events of September 11, an estimated 90,000 or more fliers covered walls, phone booths, utility poles, lampposts, and signs at subway stops.  For New Yorkers the fliers were a constant and powerful reminder of their lost friends, neighbors, and family members.
The simple, pleading messages usually were not much more than a photograph, accompanied by a personal description and contact information – but they had the power to make people stop in the busy streets and cry for people they never met.
Probably hundreds of thousands of the city's residents searched the faces on the wall for any recognition, any memory that they had of seeing one of the missing people. Their search created an intimate sense of community in the nation's largest city. In addition, newspaper, television, and radio stories helped spread the message about the missing, giving survivors a glimmer of hope that their mother, their brother, their child, or their friend might eventually be found.
Although it was and is a planned experiment, the members of The Colony have accepted their situation as real. The loss of any one of their members has had a profound impact on the group as a whole – and on each of the volunteers as individuals.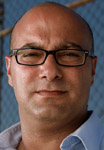 Adam Montella is vice president of homeland security and preparedness services for Previstar Inc. and a nationally known emergency-management and homeland-security professional with more than 23 years direct experience in both government and the private sector. He served as the first general manager of emergency management for the Port Authority of New York and New Jersey in the period following the 11 September 2001 terrorist attacks and has served in many other emergency-management positions at all levels of government. A former member of the House Operations Recovery Team of the U.S. House of Representatives and of numerous local, state, national, and international emergency management associations, he also is a well known public speaker in his chosen field and a former recipient of Harvard University's prestigious Innovations in American Government Award.