"There has been a lot of discussion in the disaster sector on the use of social media and mobile applications for preparedness and response," says DomPrep40 member Joseph C. Becker, senior vice president of disaster services at the American Red Cross (ARC).  In leading the ARC's responses to recent disasters, Becker has seen the potential of social media to greatly improve the way people in need connect with those who can help.   The recent Haiti response is a case in point where service improved as a result – and led Becker to question what implications such use poses for policies and procedures, both for response organizations and governments.
Cities, counties, and non-governmental organizations (NGOs) have been using social media as an additional means to interact, both prior to a disaster and during the event itself.  "I am particularly concerned over how social media create an expectation for expressing need when they become the surrogate '9-1-1' when regular services, voice communications, are disrupted by a disaster," says Becker.  If text services and the Internet remain intact, then the key question is how jurisdictions and rescue services can tie into texting and mobile social media applications – which the users assume will link into a back-end response system that delivers.  "The problem in Haiti was that in many cases there was no mechanism for an expression of need by text to connect with organizations that could help," says Becker.
Becker drafted this survey for the DP40 and DomPrep members to assess their opinions on the use of social media in disaster response.  The issues are important and may require the setting of policies – particularly in view of the legal ramifications involved with regard to liability. 
Key Findings:  DomPrep readers and experts agree: The use of social media in disasters is increasing.  But organizations and jurisdictions do not have adequate capability and scalability to connect urgent requests via social media to response units.  Liability issues need to be addressed.
Click for Full Report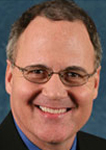 Joseph C. Becker is the Senior Vice President of Disaster Services for the American Red Cross (ARC), and in that post led the organization's relief efforts during the 2004 hurricanes in Florida and in the Hurricane Katrina response along the Gulf Coast. Prior to fleeting up to his current position he served as the ARC's vice president of response, a position he assumed after seven years service as executive director of the Greater Carolinas Chapter of the American Red Cross. He previously served, for 23 years, as a member of the management group of Kings Entertainment Company. A native of Cincinnati, Ohio, he holds a degree in business administration from Miami University in Athens, Ohio.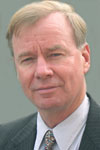 John F. Morton is the Strategic Advisor for DomPrep. He is also the Homeland Security Team Lead for the Project on National Security Reform (PNSR). A member of the DomPrep team since its founding, he has served as managing editor for writer assignments and interviewer for scores of DomPrep audio interviews.