Information flow is the process of efficiently moving information within and between jurisdictions and systems for the purpose of communicating, making decisions, and establishing policies and procedures. Whether preparing for, responding to, or recovering from a disaster, information flow is a determining factor in the success of any of these efforts.
However, when one (or more) community stakeholder groups is not part of the process, the flow can slow or stop without the knowledge and data that group(s) could provide. For example, a citizen sees something suspicious but does not know how to report it; or a researcher discovers an escalating threat, but community leaders do not heed the warnings.
Throughout the current pandemic, many processes have changed – including how people communicate and share information. The lack of face-to-face planning meetings and daily discussions can certainly hinder collaborative efforts. However, in other ways, it may have forced open a door to a digital world of communications and information sharing that would have otherwise been difficult to embrace.
More than simply sharing information, information flow is about engagement that leads to actionable items. Agencies and organizations can effectuate the process of information flow for disaster preparedness by:
By taking an information in, action out approach, communities will be better prepared for and recover quicker from any current or future threat. The April edition of the DomPrep Journal is an example of the domestic preparedness community's willingness to keep the information flowing from a broad range of community stakeholders at the local, state, and federal levels. The question is, what actions will this information spur within your community?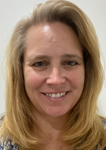 Catherine L. Feinman, M.A., joined Domestic Preparedness in January 2010. She has more than 30 years of publishing experience and currently serves as editor of the Domestic Preparedness Journal, DomesticPreparedness.com, and the DPJ Weekly Brief, and works with writers and other contributors to build and create new content that is relevant to the emergency preparedness, response, and recovery communities. She received a bachelor's degree in international business from the University of Maryland, College Park, and a master's degree in emergency and disaster management from American Military University.