Information sharing is a valuable tool used for various purposes. However, this tool's power in preparing for and responding to emergencies should not be underestimated. Unfortunately, critical information and data can sometimes be misused, not effectively leveraged, not shared, or simply ignored. In these scenarios, it is more difficult to accurately predict and mitigate threats and hazards, adequately prepare for emergencies and disasters, and efficiently respond to future incidents when lives and property are at risk.
Many tools and resources are available for sharing data and helping leaders make better, more informed decisions. For example, some tools help law enforcement agencies reach across jurisdictions and geographical boundaries to locate and apprehend violent criminals, hopefully before anyone else gets hurt. In addition, numerous resources and lessons learned help first responders develop plans for high-frequency events and complex evolving threats. Even after plans are established, the information flow must maintain these plans. Data sources can help track trends to predict changes in environmental hazards, which can be difficult to notice without access to longer-term trend analyses.
Plans and guidance help ensure that the shared information is received and understood. For example, federal agencies must keep state, local, tribal, and territorial governments updated about changes in national planning strategies that could affect their plans. To build resilient communities, local agencies must gain public buy-in for their emergency preparedness and public safety objectives through public outreach and other media campaigns. Beyond physical training and supplying resources, frontline workers must prepare for disasters by also receiving guidance to understand the mental challenges they are likely to face. As new professionals enter the field, seasoned professionals must pass on their knowledge to the next generation, but there is also much information that youths have to offer.
The authors in this March edition of the Domestic Preparedness Journal describe various ways information sharing reaches across potential barriers to help emergency preparedness professionals before, during, and after disasters. Information can be shared with and retrieved from many sources. Whether sharing information within data applications, across jurisdictions, from generation to generation, or even across species, saving lives and protecting property are the shared goals. Reach out and share critical information, accept information from others, and collaborate to solve problems and respond to incidents as rapidly and effectively as possible.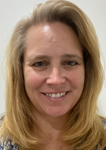 Catherine L. Feinman, M.A., joined Domestic Preparedness in January 2010. She has more than 30 years of publishing experience and currently serves as editor of the Domestic Preparedness Journal, DomesticPreparedness.com, and the DPJ Weekly Brief, and works with writers and other contributors to build and create new content that is relevant to the emergency preparedness, response, and recovery communities. She received a bachelor's degree in international business from the University of Maryland, College Park, and a master's degree in emergency and disaster management from American Military University.