All disasters may begin locally, but their effects and resource needs can span jurisdictions and can even have national implications. This edition of the DomPrep Journal examines ways to protect critical infrastructure and communities from widespread catastrophe.
To begin, building a robust homeland security enterprise requires efforts at all government levels. With the right mix of local, regional, and federal resources and capabilities, the nation as a whole will be better protected from outside threats (see Judson Freed's article). Resources needed to protect the homeland against both natural and human-caused disasters include federal funds. Preparedness at the local level promotes national security, but also requires national support (see Federal Grant Programs Podcast).
Critical infrastructure is a good example of where local to federal interests collide. Food, water, electricity, transportation, and communication are just a few resources that are crucial for mitigating threats and rapidly recovering from disasters. When any one of these infrastructures are lacking, the community and its surrounding areas suffer. For example, ensuring power supplies and water/wastewater operations during non-disaster times promotes resilience during disasters as well (see Mary Lasky & William Harris's article). Thorough research can help identify interdependencies and infrastructure gaps – such as in transportation – to help communities adapt as threats evolve (see Laurel Radow's article).
Communication and education can take on many forms, and a variety of methods and messages is needed to help bridge such gaps. There is no "one and done" solution, so repetition is the key (see Terry Hasting's article). Repetition with technology is also beneficial to ensure information sharing under diverse situations. Ham radio, for example, can fill gaps that have formed between other modes of communication (see Steve Aberle's article).
Communities are faced with many threats and hazards on a daily basis. Having the right tools and the right resources at the right time builds community resilience, but the community members themselves fuel the determination to fully recover and reach their new normal. Collaborative partnerships among all key stakeholders build valuable social networks for sharing lessons learned and best practices. One such partnership introduced resilience guidance that had previously been lacking to Native American and Alaska Native populations (see Lynda Zambrano's article). In another case, strong community bonds spurred much needed action during a flood when official resources were overwhelmed (see Nicolette Louissaint's article). By defining problems, identifying resources, building knowledge, and promoting social networks, communities are equipped to face and overcome whatever challenges they face.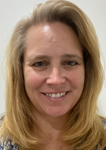 Catherine L. Feinman, M.A., joined Domestic Preparedness in January 2010. She has more than 30 years of publishing experience and currently serves as editor of the Domestic Preparedness Journal, DomesticPreparedness.com, and the DPJ Weekly Brief, and works with writers and other contributors to build and create new content that is relevant to the emergency preparedness, response, and recovery communities. She received a bachelor's degree in international business from the University of Maryland, College Park, and a master's degree in emergency and disaster management from American Military University.