Critical Infrastructure – Preparing for the "Long Haul" by Joe D. Manous
Critical Infrastructure – Addressing an Overarching Concept (Podcast) by Joe D. Manous
Critical infrastructure, sustainability, and resilience are terms that are commonly used by emergency planners, responders, and receivers in various disciplines and jurisdictions. However, questions surround who needs to understand and implement these concepts, how the terms are defined and used, and how the concepts contribute to resilient communities. In this month's survey, 151 DomPrep readers replied to a flash poll that addressed these topics. This article is a compilation of these responses, including one that provided the following headings.
Preparedness 101: Defining Critical Infrastructure
Most of the respondents (80.0 percent) stated that critical infrastructure, sustainability, and resilience are cross-cutting concepts that are applied to established fields of practice, rather than fields unto themselves (Figure 1). However, all of these concepts require collaborative efforts and effective plans in order to promote overall preparedness.
First, there needs to be a basic understanding of each concept, preferably with common terminology determined in a cooperative effort by government, academia, and trade associations. Lessons learned from other collaborative efforts – for example, the National Response Plan – could serve as a starting point for determining a course of action toward infrastructure protection.
Although more than half (61.3 percent) of the respondents stated that critical infrastructure, sustainability, and resilience topics are more suited for experienced individuals and graduate education, arguments were made for these topics to be covered in the entry-level workforce as well (Figure 2). These arguments include:
Training and education are necessary at the entry level, but the actual "work" should be performed with a combination of new and experienced workforce members.
The entry level should at least include a simple awareness program, with more detail about how these concepts interact as employees reach higher managerial levels.
Information shared at a more basic level – including at the high school level – should help with disseminating important concepts to the public.
As concepts progress, change, and improve, having a solid base would make it easier to build on knowledge, history, and future changes.
Protecting critical infrastructure, sustainability, and resilience apply to all preparedness fields and are underlying goals, so everyone should understand them.
Preparedness 201: Protecting Critical Infrastructure
After laying the foundation, emergency professionals can begin to develop and implement specific plans from a generalized national "warehouse" of ideas and strategies. Most of the respondents (95.3 percent) agree that there is a need for "bodies of knowledge" – shared understanding of key terms, definitions, concepts, principles, tips, techniques, and procedures – within critical infrastructure, sustainability, and resilience topics (Figure 3).
A centralized knowledge base established by a task force of experienced professionals in various fields – civil engineers, architects, developers, emergency managers, business continuity and risk management professionals, insurance professionals, legal and environmental agency representatives, academia, as well as other specialists – would be useful because concepts are ever changing. The knowledge base could house documents and share information on: prescriptive guidance; vulnerability assessments; best practices; prevention and mitigation strategy development; response, continuity, and recovery planning; lessons learned; studies; tools; risk assessments; and other resources.
Preparedness 301: Sustainability of Actions
Analysis and critique of protection efforts help identify problems, encourage evolution, and maximize efficiency of work performed. In order to effectively sustain actions, there must be proper training, education, and experience that is passed from experienced professionals to newer employees. The independent complexities for managing and supporting each area require mature sets of skills. Therefore, in order to effectively communicate across multiple industries, a new curriculum is required to train and certify professionals for sustainment of cross-cutting employment operations.
Such training must be at least at the same level as those who are retiring. Retiring workforce members also should spend time before their departures transferring knowledge to a database and helping train replacements to ensure maximum knowledge transfer. Other ways to transfer knowledge and ensure sustainability include, but are not limited to: continuing education; reviewing lessons learned; sharing current concepts and practices; acquiring experience and life lessons; taking formal and informal training and refresher courses; mentorship programs; peer-to-peer sharing; secondary and postsecondary education programs; and tabletop exercises.
Many free training courses are available through the Federal Emergency Management Agency Independent Study. The following are just some of the courses related to critical infrastructure, sustainability, and resilience:
IS-1 Emergency Manager: An Orientation to the Position
IS-200.B Incident Command System for Single Resources and Initial Action Incidents
IS-546 Continuity of Operations (COOP) Awareness
IS-547.A Introduction to Continuity of Operations (COOP)
IS-662 Improving Preparedness and Resilience Through Public-Private Partnerships
IS-700.A National Incident Management System (NIMS)
IS-800.A National Response Plan (NRP), an Introduction
IS-860.B National Infrastructure Protection Plan (NIPP)
IS-921.A Implementing Critical Infrastructure Security and Resilience
Preparedness 401: A Resilient Community
With the transparency and open communication, the best and most effective actions may be used for the supporting elements of a community outside the critical infrastructures. A standardized plan of action and an inventory of assets will enable quicker transfer of duties and responsibilities to new personnel.
For community resilience, teams, committees, or groups of public and private sector professionals with various talents and experience can collaborate to accomplish specific goals. The information gathered must be secured to prevent potential perpetrators from accessing information about the community's valuable scenarios, recommended actions, and other findings. One respondent suggested using protected forums such as Homeland Security Information Network and Law Enforcement Online as reservoirs of knowledge.
As one respondent wrote, "In the end, the 'mindset of preparedness' needs to be, as uniform as possible, established at all levels of society – throughout all branches of government, industry, and citizenry." It is not enough to say that critical infrastructure needs to be protected, that actions need to be sustainable, and that communities need to be more resilient. There must be clear definitions, specific plans of action, and actionable ways to become more resilient.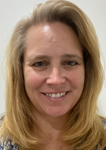 Catherine L. Feinman, M.A., joined Domestic Preparedness in January 2010. She has more than 30 years of publishing experience and currently serves as editor of the Domestic Preparedness Journal, DomesticPreparedness.com, and the DPJ Weekly Brief, and works with writers and other contributors to build and create new content that is relevant to the emergency preparedness, response, and recovery communities. She received a bachelor's degree in international business from the University of Maryland, College Park, and a master's degree in emergency and disaster management from American Military University.