As another calendar year comes to a close, agencies and organizations are reflecting on the events of 2017: hurricanes, mass shootings, wildfires, critical infrastructure failures, disease outbreaks, cyberattacks, and other incidents that have strained local resources. DomPrep's readers are continually challenged to be prepared for, respond to, and mitigate the consequence of disasters. When a crisis occurs, the gaps in planning and response are forced into the spotlight. However, when disasters are diverted, the success often goes unseen. This edition of the DomPrep Journal recognizes and thanks all those who work behind on the firing line and behind the scenes everyday to make their communities safer and more resilient through their activities, informational resources, and recommendations.
Those tasked with preparedness and resilience roles participate in numerous activities, including tabletop and full-scale exercises, conferences, and discussions with other local, regional, and national stakeholders. DomPrep roundtables, for example, bring together diverse groups of professionals to identify a problem and find possible solutions. Others hone their leadership skills and build relationships to better prepare for the next disaster. Of course, leadership comes with great responsibility to do the most good for the most people, which includes all levels of leaders from the local fire chief to the president of the United States.
The driving forces behind many preparedness and resilience efforts begin with informational resources and tools. Tools created for one jurisdiction are often applicable to others. However, they are only beneficial if they are shared. This includes research on low-frequency, high-consequence events – such as mass fatalities – to help build resilience in areas that have yet to experienced them. It also includes response guidelines created for one jurisdiction being used as a building block for others.
In addition to research, guidelines, and other informational tools, recommendations based on lessons learned and best practices are critical for building community resilience. Partnerships and information sharing play key roles when the goal is to increase resilience within and between communities. Asking the right questions and making the best purchases in advance help to ensure continuity of operations and continuity of government when disasters do occur. Potential security threats must be considered at every stage of the planning process – from evaluation to resource management, including disposal of equipment. This is just a fragment of what has been and continues to be done – often without accolades – to keep communities safe, secure, and resilient.
Best wishes for a safe and resilient New Year!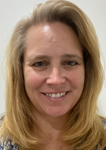 Catherine L. Feinman, M.A., joined Domestic Preparedness in January 2010. She has more than 30 years of publishing experience and currently serves as editor of the Domestic Preparedness Journal, DomesticPreparedness.com, and the DPJ Weekly Brief, and works with writers and other contributors to build and create new content that is relevant to the emergency preparedness, response, and recovery communities. She received a bachelor's degree in international business from the University of Maryland, College Park, and a master's degree in emergency and disaster management from American Military University.