The word safety is commonly used in the workplace and sounds good when it is tacked onto other words or used in phrases – for example, public safety, safety officer, safety lock, safety culture, safety goggles, and various slogans like "safety first," just to name a few. However, the true meaning of the word should not get lost in such casual terms used in daily routines. 
When defining the word safety, various dictionaries describe it as a state, condition, or place of avoiding, being safe or protected from, or being unlikely to cause danger, risk, or injury. With that definition, achieving a culture of safety in the workplace let alone in entire communities is daunting. Even with the best plans, procedures, and equipment in place, not all dangers and risks can be avoided. However, there are uncountably more dangers if efforts are not made with safety being the primary goal.
On November 5, a crowd broke through barricades at a music festival, killing 10 and injuring hundreds more. On November 21, a vehicle plowed through a holiday parade, killing at least 5 and injuring dozens more. Investigations are ongoing for these incidents, but it is not too soon to start learning from them to help prevent similar tragedies. To avoid inherent dangers of not protecting events, any special event should involve extensive safety and security planning that includes all key stakeholders – event planners or organizers, venue leadership, security officers, performers, and anyone else who has a responsibility to keep attendees safe. 
Some risks and hazards are common within a community, whereas others are rare or unexpected. A challenge that many preparedness professionals face when urging community leaders to institute safety programs and initiatives to mitigate threats and reduce costs to life, health, and property is not being able to convince them their predicted events will someday happen. As a result, unheeded warnings can turn into "unimaginable" destruction. Pandemic preparedness and the use of quarantine procedures is just one example of a lost opportunity that should now be revisited – before the next pandemic.
In addition to planning for disasters and gaining stakeholder buy in, there are many tools and resources that can be incorporated into the process to help promote safety, especially for frontline workers. Human-machine teaming is one example that is currently being conceptualized and developed by scientists and engineers. With safety and security as priorities, such innovation could help better protect officers in the field and the communities they serve.
The November edition of the Domestic Preparedness Journal embraces the true meaning of safety by urging preparedness professionals to take steps toward actually being safe and protecting others from anticipated risks and hazards. It is not good enough to just have a safety and security plan. The plan must also have buy-in and resources to implement the plan. The task may be daunting, but safety is worth the effort.
The website, www.domesticpreparedness.com, the DomPrep Journal, and the DPJ Weekly Brief include facts, views, opinions, and recommendations of individuals and organizations deemed of interest. The Texas Division of Emergency Management and the Texas A&M University System do not guarantee the accuracy, completeness, or timeliness of, or otherwise endorse, these views, facts, opinions, or recommendations.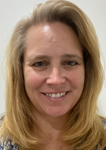 Catherine L. Feinman, M.A., joined Domestic Preparedness in January 2010. She has more than 30 years of publishing experience and currently serves as editor of the Domestic Preparedness Journal, DomesticPreparedness.com, and the DPJ Weekly Brief, and works with writers and other contributors to build and create new content that is relevant to the emergency preparedness, response, and recovery communities. She received a bachelor's degree in international business from the University of Maryland, College Park, and a master's degree in emergency and disaster management from American Military University.