On 27 June 2017, the Urban Assembly School for Emergency Management (UASEM), the first high school in the United States dedicated to the field, graduated its first cohort of students. Over the past four years, UASEM has engaged students in exploring careers in first response through trips to the New York City Fire Department (FDNY) training headquarters, logistics at the New York City Emergency Management Emergency Operations Center, and internships in emergency management organizations across the region.
UASEM provides students with authentic learning experiences that empower them with the skills to contribute to their communities and succeed in college and career. By constantly applying what they learn in the classroom and field of emergency management, students develop the confidence to pursue their dreams and the character to serve their communities. UASEM accomplishes this by offering "work-based learning" opportunities, which combine traditional classwork with career preparation through emergency management related experiences such as internships, guest speakers, field trips, and projects.
Industry Exposure & Skills Building
As UASEM leaves its "start up" phase and moves into an "at capacity" institution, it has gleaned three key takeaway lessons in preparing students for emergency management related jobs and post-secondary study:
1.Industry exposure is key;
2.Industry skills are learned best through experience and application; and
3.Individual partners matter most.
In terms of industry exposure, UASEM strives to provide at least two meaningful industry touch points with students per year, ranging from a career-week program that gives students the opportunity to speak with industry experts to ongoing programs such as the New York City Police Department's (NYPD) Explorers program that engages students in weekly trainings with the local precinct. Students speak about how these opportunities give them insight and intrigue into the industry and have inspired at least two students to apply to the Federal Emergency Management Agency's FEMA Corps program as a post-secondary option.
UASEM has also learned that industry skills best come through experience and application. The most impactful, applicable experiences students speak about are the large-scale, industry-specific projects. For example, in the inaugural year of the school, students learned about personal and community preparedness. Students then partnered with FEMA as part of their annual PrepareAthon to design and administer a survey measuring the average New Yorker's preparedness for emergencies germane to New York City. Students fanned out across the five boroughs and collected over 1,200 data points. After analyzing the data, students made public service announcements aimed at specific target populations and addressed trends from the analysis – for example, how to make and use a go bag.
In that public service experience, students produced work authentic to the industry while also learning a variety of skills that emergency managers have stated are important for success in the field such as data collection and analysis, critical thinking, and strong writing and communication. Such experiences also provide knowledge and skills that students can speak to in interviews with future employers.
Partnerships That Work
Finally, UASEM has learned that the individual industry partners who students are paired up with for internships and work-based learning experiences matter immensely. Students who speak highly about their internship supervisors tend to learn the most and develop the most industry-specific skills. For example, a student who had a summer internship with the New York City Department of Education's Emergency Management unit spoke highly of her supervisor and had the opportunity to develop an active shooter plan and drill. These partners become more like mentors and are deeply invested in strengthening their student's professional as well as industry-specific skill sets. UASEM is finding that its partners often return to offer internships. New York City Emergency Management went a step further and offered to extend an internship in order to get one UASEM student's input in developing their internship program.
As UASEM continues to grow, it seeks to strengthen its industry preparation program using these lessons learned alongside partners who are simultaneously developing certifications and professional standards in the field of emergency management. For example, UASEM was recently awarded a Pathway Development grant from the New York City Department of Education to build out its "Response and Recovery" pathway and enable students to earn their Emergency Medical Technician certification before leaving UASEM. UASEM is also exploring how to support students in developing skills and work experience in cybersecurity, a less traditional but growing field within emergency management.
For more information about the Urban Assembly School for Emergency Management, contact info@uasem.org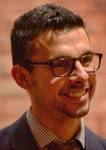 Robert Magliaro is a co-founder of The Urban Assembly School for Emergency Management (UASEM) and co-wrote the initial proposal for the school. He came to education through Teach for America, taught grades 7-12 in the South Bronx, and supported teachers and students as an Instructional Lead and Data Coach before opening UASEM. Prior to teaching, he worked at the Pennsylvania Governor's Office, Moody's Economy.com, the Mayor of Syracuse, and Lovell's International Law Firm in Hong Kong. He was recently appointed to Manhattan Community Board 3 by The Manhattan Borough president and is a member of the Alliance for School Integration and Desegregation (ASID). He earned his B.S. as a triple major in economics, international relations, and public policy from Syracuse University, where he graduated as one of 12 University Scholars. He also earned his masters in math education from Lehman College and is an alum of the Leadership Apprenticeship Program at the New York City Leadership Academy.