For more than 20 years, DomPrep has promoted the lessons learned and best practices of agencies and organizations that have managed various disasters. There is so much valuable advice that can be gleaned from such reviews. For example, reviewing past events is critical for learning how to avoid previous preparedness and response pitfalls. However, as lessons learned and best practices are being incorporated into current plans, these plans need to be regularly reviewed and modified to take into consideration innovative solutions and technological advances. Simply responding to a current disaster by doing what should have been done during the last disaster would lead to missed opportunities for building community resilience.
Resilience involves studying past events, being familiar with currently available resources, and comprehensively planning for what may or may not have ever happened before. Accurate risk modeling, better funding opportunities, and fresh ideas would help communities become more resilient in the current environment. Creating new uses for existing resources is one concept worth exploring. Responses to common threats such as wildfires, for instance, could benefit from exploring forward-thinking ideas for integrating the extensive existing pipeline infrastructure to help fight fires. For responses to all types of threats, interoperable communications is often a critical component in determining how successful the response is perceived. New technologies, standards, and procedures are having a significant impact on the emergency communications ecosystem.
Despite some resources being readily available through various government agencies or private industries, some still are underutilized when not well-known or understood. Research again plays a key role in finding these existing opportunities. In the healthcare sector, the U.S. Department of Health and Human Services Office of the Assistant Secretary for Preparedness and Response provides assistance to help improve communities' readiness and response capabilities. Effective disaster planning, which promotes resilience, is built over time and requires a holistic approach – knowledge of the past, understanding of current resources, and thinking outside the box for new solutions.
Numerous opportunities exist to improve community resilience. It is just a matter of finding the right ones for current and future needs. This March edition of the DomPrep Journal provides guidance from knowledgeable emergency planners to help other disaster preparedness and response professionals start searching for the numerous opportunities available to them.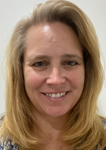 Catherine L. Feinman, M.A., joined Domestic Preparedness in January 2010. She has more than 30 years of publishing experience and currently serves as editor of the Domestic Preparedness Journal, DomesticPreparedness.com, and the DPJ Weekly Brief, and works with writers and other contributors to build and create new content that is relevant to the emergency preparedness, response, and recovery communities. She received a bachelor's degree in international business from the University of Maryland, College Park, and a master's degree in emergency and disaster management from American Military University.