The facts of the Times Square bombing plot are well known. A lone terrorist by the name of Faisal Shahzad, age 30, drove a 1993 Nissan Pathfinder – which he had purchased on Craigslist for $1,300 in cash – into Times Square on 1 May 2010, then abandoned it. Vendors and passersby noticed when the car started smoking and quickly alerted the police. Officials later discovered propane, firecrackers (M88s), some inert fertilizer, and gasoline inside the vehicle.
Against the backdrop of one of the largest manhunts in U.S. history, Shahzad tried to flee the country, booking a seat on an Emirates Air flight departing from New York's John F. Kennedy airport and paying in cash for a one-way ticket to Dubai. Despite the fact that buying a one-way ticket in cash was in the original terrorist aviation threat profile dating back more than 30 years, it apparently did not raise any suspicions among the Emirates counter staff or other employees.
And, in another breathtakingly incompetent administrative lapse, the U.S. Transportation Security Administration (TSA) required airlines to check the no-fly list only once a day. Although Shahzad's name had been placed on the list the day before, the airline reviewed the list against its passenger manifests earlier in the day – as was consistent with its normal procedures – but did not check it again to ensure that purchasers of last-minute tickets were not on the list. Thus, the plane had already pulled back from the gate when a sharp-eyed Customs and Border Protection agent found Shahzad's name on the manifest of the Emirates Air flight. Shahzad was immediately arrested and subsequently arraigned on five federal charges in U.S. District Court in New York.
During questioning by the FBI, Shahzad, a naturalized American citizen, claimed that he had been provided with support, including approximately $7,000 in cash, and explosives training in Pakistan. This version of events is supported by Shahzad's travel to Pakistan in recent years and the fact that he had received 12 phone calls on his cell phone from Pakistan in the days just prior to the attack.
Shahzad Was an Amateur
First and foremost, the United States was lucky once again. The explosive device, like the clumsy device worn by the "underwear bomber" last December, did not work. The fertilizer that Shahzad had purchased was completely safe, and not like the ammonium nitrate used in the Oklahoma City bombing; moreover, the M88 firecrackers would not have served as proper detonators. There also are reports that Shahzad had not fully turned on the propane tanks and the vehicle was therefore not filled with the volatile gas – which otherwise could have been initiated with a single spark. Moreover, there was no shrapnel in the vehicle. Had Shahzad constructed a truly professional explosive device, such as those seen so frequently in Iraq and Afghanistan in recent years – and filled the vehicle with ball bearings, scrap metal, and nails – hundreds, or even thousands, of people could have been killed or injured in the Times Square area.
His device was, therefore, more of an incendiary than a bomb. Nonetheless, it still could have created a huge bang, shattering windows throughout Times Square, and the falling or flying shards of glass could have produced a large number of casualties.
Using the vehicle's VIN number, authorities quickly linked it to the original owner, who had sold it to Shahzad. The owner, fortunately, still had the phone number that Shahzad had used to make contact with him, and that number was in fact traced back to Shahzad. Now that they had a name, the investigating authorities showed the owner of the Nissan a recent photo of Shahzad, and he confirmed that Shahzad was in fact the person to whom he had sold the vehicle.
The FBI put surveillance on Shahzad but lost track of him on his way to JFK International on Tuesday. Surveillance is always difficult, particularly if one does not want to tip off the subject. Helicopter surveillance also is restricted because of congestion in the New York City area, and there is some question as to whether the FBI had enough ground resources available to ensure that Shahzad would not give them the slip. Nevertheless, it is almost unbelievable that they would lose track of a fugitive, and suspected terrorist, such as Shahzad.
In short, Shahzad was not only an amateur, but an incompetent one – who was so flustered after leaving the Nissan in Times Square, for example, that he even forgot to grab the keys to his getaway car, which was parked a short distance away.
What Is the Significance of Shahzad's Plot?
Faisal Shahzad seems to be connected to the Pakistani Taliban, known as the Tehrik-i-Taliban Pakistan (TTP), a fact confirmed by U.S. Attorney General Eric H. Holder Jr. This is an alarming development because heretofore the TTP, unlike Al Qaeda, had not tried to target the United States directly (except overseas – i.e., in Pakistan and Afghanistan). The Shahzad plot seems quite likely, therefore, to be just the opening salvo from a deadly and well-financed terrorist movement that has been reeling in recent months from U.S.-sponsored drone attacks on its leadership and members in Pakistan (especially in North and South Waziristan), complemented by brutal ground offensives by the U.S.-backed Pakistani government.
Some in the U.S. intelligence community believe that the TPP leadership now realizes: (1) that the Times Square plot was too ambitious; and (2) that they are planning other attacks, especially against soft targets like shopping malls, office buildings, and transportation systems – probably in U.S. cities other than New York and Washington, D.C. – where security is less pervasive and law-enforcement agencies do not have the resources, training, and/or expertise as in the two cities that were attacked on 9/11. Among the TPP's targets in Pakistan have been government officials (including Benazir Bhutto, the nation's first female prime minister), convoys, security checkpoints, military complexes, and buildings used by the Pakistani Federal Investigation Agency (FAI) and various police agencies.
In the future, it can be expected that TTP operatives sent to or recruited in the United States will be better trained and financed than Shahzad was. Ultimately, one or more of those operatives will carry out a successful attack against a target in this country – which might well be followed by many additional attacks. In that context, the Times Square plot should be seen as a much needed wake-up call for U.S. intelligence and law-enforcement agencies throughout the country. The TTP has expanded its relationships and alliances with other terrorist groups in recent months, including Al Qaeda, and it would come as no surprise to see some type of a joint operation mounted by the TTP and one or more other jihadist terrorist organizations in the foreseeable future.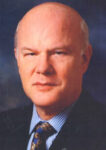 Dr. Neil C. Livingstone, chairman and CEO of ExecutiveAction LLC and an internationally respected expert in terrorism and counterterrorism, homeland defense, foreign policy, and national security, has written nine books and more than 200 articles in those fields. A gifted speaker as well as writer, he has made more than 1300 television appearances, delivered over 500 speeches both in the United States and overseas, and testified before Congress on numerous occasions. He holds three Masters Degrees as well as a Ph.D. from the Fletcher School of Law and Diplomacy. He was the founder and, prior to assuming his present post, CEO of GlobalOptions Inc., which went public in 2005 and currently has sales of more than $80 million.