When community stakeholders work together to prepare for emergencies and disasters, they will be better prepared and have more resources to face whatever threats, risks, and hazards are in their future. Four key aspects to consider when building community resilience are addressed in this June edition of the Domestic Preparedness Journal: public-private partnerships, training, funding, and tolerance. 
Partnerships that bring together people from different sectors, different disciplines, and different perspectives can identify and close gaps that otherwise may go unnoticed until it is time to respond to a crisis. At that time, it may be too late to overcome challenges and provide the most effective response possible. Tokyo Disney Resort in Japan leveraged its public-private partnerships in 2011 to reduce the operational impact and improve the decision-making process during a large-scale disaster that caused significant flooding across the region. 
Training not only helps to develop physical skillsets but also mental skillsets. Effective decision making requires processing vast amounts of information, assessing risks, evaluating complex problems, and determining the best course of action based on those assessments and evaluations. Training to build such leadership skills will help mitigate the impact of the events that regularly occur as well as the low-frequency, high-consequence events that may happen only once in a lifetime. 
Funding is what makes most preparedness and response efforts possible. Even organizations that are staffed with volunteers still need funding for equipment and other operational resources. One critical funding source for many public safety efforts is grants. However, to benefit from grants, agencies and organizations need to know the current process for finding, applying for, and using them.  
Tolerance is the final topic addressed in this issue. Some level of tolerance is necessary for moving forward with plans and actions. No plan is perfect, not every task can be trained for and practiced, and not every resource will be fully funded and available when needed. Tough leadership decisions include determining what actions will be taken to achieve the best outcome possible with the resources available. Whether building partnerships, training personnel, or funding efforts, communities can continue to build resilience as long as they do not wait for perfect conditions.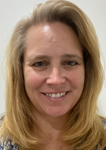 Catherine L. Feinman, M.A., joined Domestic Preparedness in January 2010. She has more than 30 years of publishing experience and currently serves as editor of the Domestic Preparedness Journal, DomesticPreparedness.com, and the DPJ Weekly Brief, and works with writers and other contributors to build and create new content that is relevant to the emergency preparedness, response, and recovery communities. She received a bachelor's degree in international business from the University of Maryland, College Park, and a master's degree in emergency and disaster management from American Military University.