Emergency planning has a long, rich history not only in the United States but also in other industrialized countries throughout the world. The Federal Civil Defense Guide was compiled and promulgated during the 1960s. Next came the Civil Preparedness Guide in the 1970s. For the last 12 years its successor – the State and Local Guidance for All Hazards Emergency Operations, issued in September 1996 by the Federal Emergency Management Agency (FEMA) – has been the definitive work on the subject.
That publication, affectionately known as SLG 101, was the "best seller" of all of the agency's free publications. It built upon the lessons learned from Hurricane Andrew in 1992 and the Midwest floods of 1993. However, it was somewhat ironic that the agency's Preparedness Directorate issued guidance only for response operations – and not for the preparedness, mitigation, and recovery phases of the same disaster. Eventually, though, an Annex on Terrorism was added (after the Oklahoma City bombing), making SLG 101 a more credible all-hazards document. However, there still was no section on planning for the special needs population.
For that and several other reasons, the proposed Comprehensive Preparedness Guide (CPG 101), now in the final stages of editing, deserves a strong professional salute and welcome. By the time the final version of CPG 101 is released (in December, as now planned) it will cover all hazards, and all phases of each. The new guide also will cover such essential related subjects as scenarios, capabilities, and functional planning, allowing a ton of flexibility for local and regional environmental, geographical, political, and social differences.
Timely, Comprehensive, and Results-Oriented
It certainly is time for so comprehensive a guidance document, if only because so many new lessons have been learned from relatively recent catastrophic disasters and because so many new policies and guidelines are in place – those promulgated in the National Incident Management System and the National Response Framework, to cite but two important examples. In addition, of course, the still relatively new Department of Homeland Security (DHS) has been established since the issuance of SLG 101. All of these developments affect the planning process at all levels and with all entities.
The inclusion of prevention and protection in the CPG 01 planning model should and will, it is hoped, foster new levels of partnership building and technological interoperability among emergency managers, fire and law-enforcement units, and emergency medical services agencies. In addition, the new Comprehensive Preparedness Guide will be consistent with and supportive of the DHS guidelines covering critical infrastructure protection and resiliency.
Among FEMA's principal goals in the issuance of CPG 101 are: (a) to help state and local emergency-management agencies and organizations produce Emergency Operations Plans that can serve as the basis for effective operations when any hazard threatens any jurisdiction; (b) to facilitate the integration of mitigation and preparedness with response and recovery activities; and (c) to foster and promote coordination with the federal government during catastrophic disaster situations that necessitate implementation of the National Response Framework.
FEMA is clearly pointing the way toward, among other things:
Developing sufficiently trained planners to meet and sustain planning requirements;
Identifying resource demands and operational options throughout the planning process;
Linking planning, preparedness, and resource and asset-management processes and data in a virtual environment; 
Conveying, through effective plans, the goals and objectives of the responses recommended and the intended actions needed to achieve them;
Fashioning successful responses based on organizations not only knowing and accepting their roles but also understanding how they fit into the overall plan;
And, finally, realizing that the process of planning is more important than the document that results from it.
As Winston Churchill once said, "Let our advance worrying become advanced thinking and planning."
Email questions, comments, or feedback regarding this article.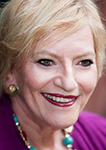 Kay Goss is the President of World Disaster Management, LLC. Her emergency management work began 40 years ago, as senior assistant to two state governors coordinating fire service, emergency management, emergency medical services, public safety, and law enforcement for 12 years. She then served as the Associate Federal Emergency Management Agency (FEMA) Director for National Preparedness, Training, Higher Education, Exercises, and International Partnerships (presidential appointee, U.S. Senate confirmed unanimously). She was a private sector government contractor for 12 years, at the Texas firm, Electronic Data Systems (EDS) as senior emergency manager and homeland security advisor and SRA International's director of emergency management services. She currently serves as a nonprofit leader on the Board of Advisors for DRONERESPONDERS International and for the Institute for Diversity and Inclusion in Emergency Management, and as graduate professor of Emergency Management at University of Nevada at Las Vegas for 16 years, İstanbul Technical University for 12 years, the MPA Programs Metropolitan College of New York for five years, and George Mason University. She has been a Certified Emergency Manager (CEM) for 25 years and a Featured IAEM CEM Mentor for five years, and Chair of the Training and Education Committee for six years, 2004-2010. She is also on the Advisory Board for Domestic Preparedness.